Spreading good governance practice around the globe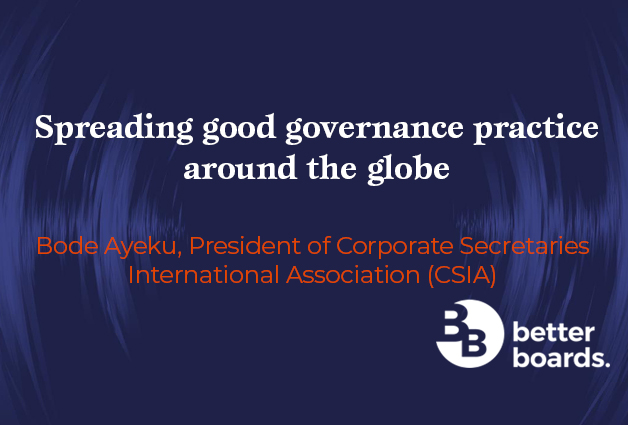 Much is written and said about governance, but most is heavily skewed towards the developed world, while good practice is happening (or should be happening) in every country. But what matters to Company Secretaries and boards in both the developed world and developing world, and how accessible is good practice? What has been done to break down silos?
In this podcast, Dr Sabine Dembkowski talks to Bode Ayeku, President of Corporate Secretaries International Association (CSIA) about how to spread good governance practice around the globe.
Bode Ayeku FCIS is a Chartered Secretary, lawyer, stockbroker, tax professional and management expert. He is President of Corporate Secretaries International Association and the Immediate Past President of the Institute of Chartered Secretaries and Administrators of Nigeria. He is a member of the Governing Council of the Nigeria Employers' Consultative Association (NECA) and the Chairman of the Committee of Legal Advisers and Company Secretaries of NECA. He won the prestigious ESQ Nigerian Legal Awards 2019 as the Company Secretary of the Year.
Some of the key takeaways of the conversation include:
"No organisation should assume they have the best practices"
Bode discusses how he has approached discussing governance around the world, something that can often be a challenge, as different countries have different approaches. In many countries there are national bodies which represent governance professionals, and they provide platforms that allow knowledge of good practices such as webinars, research and thought leadership to be shared. In countries where these bodies do not exist (and there are many) governance professionals should be aware that there are also global bodies providing guidance and governance principles and standards.
He feels that no organisation should feel they have the monopoly on best practise, and sharing information would only encourage further improvements. This sharing of resources would ultimately benefit everyone, as they could all learn from the information available.
"Platforms such as the intranet where you can store information on best practices… they should share this generously"
Bode emphasises the availability of summits and programs where secretaries from countries in the developing world can meet and discuss best practises. He cites Nigeria as an example, where they have a platform for their members to talk about any challenges they are facing and discuss practical solutions. He also discusses events where secretaries can attend seminars and hear guest speakers, further helping them learn more about best practices. He believes that companies should encourage employees to attend summits, seminars and training programs.
One method Bode uses to spread knowledge is webinars, but he also points out how companies can use their intranet to provide resources for people that want to use them.
"In my experience, secretaries in the developing and developed world are facing the same global challenges"
Bode has seen changes of priorities in both the developing and developed world, and cites issues such as environmental concerns, social mobility and ongoing issues involving the pandemic. However, it is not only a question of dealing with these issues, but also looking at potential opportunities.
Bode believes that people need to both come together and work together on global issues such as climate change, citing the example of some countries potentially not able to meet their emissions targets. The solution is for more collaboration, such as public and private partnerships.
The three top takeaways from our conversation are:
All stakeholders need to share responsibility, sharing their knowledge and resources to create stronger organisations
There is an opportunity for Company Secretaries to come together, and this has the potential to form a powerful global voice
While there are a number of challenges facing both the developing and developed worlds, the resources are there for people to share in order to face these challenges and address them
Don't forget to subscribe never to miss an episode of the Better Boards Podcast Series. Available on Apple, Spotify or Google.
To find out how you can participate in the Better Boards Podcast Series or more information on Better Boards' solutions, please email us at info@better-boards.com.