On making it in the boardroom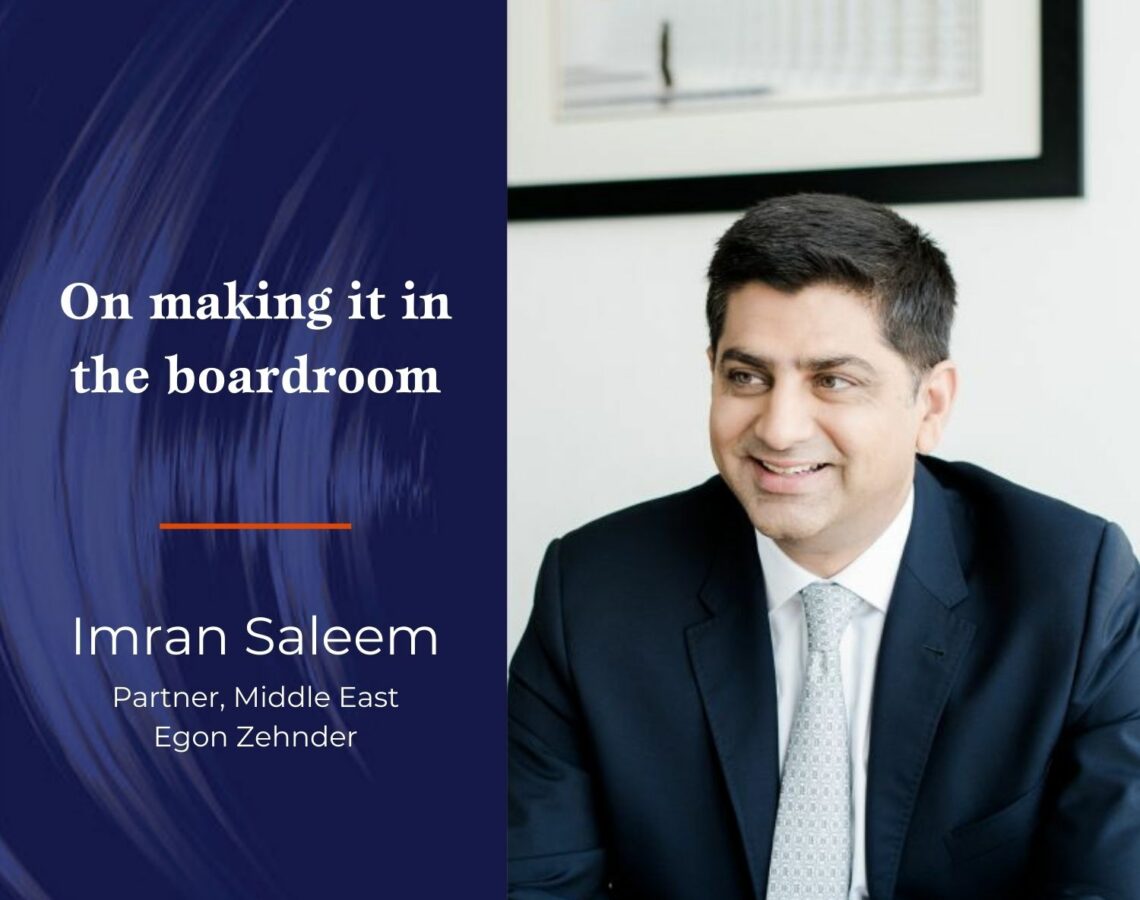 The boardroom is a desirable place, and after a successful Executive career, many wish to embark on a portfolio career and serve on boards.
The boardroom is a desirable place, and after a successful Executive career, many wish to embark on a portfolio career and serve on boards. Programmes that promise participants a seat at the table have sprung up worldwide – but not participants all make it. What does it take to make it in the boardroom?
In this podcast, Dr Sabine Dembkowski, Founder and Managing Partner of Better Boards, discusses making it in the boardroom with Imran Saleem. Imran is a Partner at Egon Zehnder in the Middle East. He works extensively with private and public sector clients across various topics, including Board consulting and advisory, succession planning, leadership assessment, development and coaching, and executive search. Imran has worked with the region's leading banks, family businesses, and other government-related entities. He also leads the Board Practice and co-leads the Financial Services Practice in the Middle East.
Some of the key takeaways of the conversation include:
"It depends on either the experience or the wisdom that they bring to the table"
Imran explains that Egon Zehnder places individuals on boards globally according to client needs. Their selection process focuses on two groups ideally placed to join boards. The first group consists of individuals with specific qualifications or high-in-demand characteristics, such as boards prioritising diversity, seeking women or ethnically diverse individuals, or requests for individuals from specific geographic regions, such as Asia or North America. Imran explains that the Middle East presents a unique category, as connectivity within the right circles is crucial due to the region's prevalence of government-related or family businesses.
Individual experiences and wisdom characterise the second group of people. Imran explains how individuals with relevant experiences as CEOs or CFOs bring a lot of credibility to boards with their strong financial acumen, understanding of risk, and broader strategic knowledge. They are well-suited for roles such as Audit or Risk Committee Chair. He notes that CEOs bring a unique perspective, as they have experienced similar challenges and can empathise with the existing CEOs and C-suite. Their experiences in navigating technology changes, transformations, and organisational structures make them valuable in understanding the current state of the host company and where it needs to go.
Imran notes that while candidates from service backgrounds are still good candidates, boards may prefer individuals with real operational experience.
"The process of narrowing down candidates from a long list to a shortlist isn't always driven by logic"
Egon Zehnder has been in the Middle East for over a quarter of a century. In his 16 years with the company, Imran has learned that various factors influence decisions when narrowing down a long list of candidates. It is not always logical and can include factors such as the candidate's representation on paper, clients' perceptions and feelings towards a particular company, and their understanding of its operations. Imran believes it is an art form. Individuals are included on the long list because there is faith in their potential to deliver and be effective board members. Egon Zehnder is responsible for advocating for them to make it to the shortlist.
Imran also notes that his company prides itself on a reputation for lateral thinking and brave suggestions. They strive to go beyond the traditional cookie-cutter approach of selecting board members who have simply replicated their past experiences in other companies. Instead, they aim to be creative in advocating for individuals with unusual backgrounds. Their task is to consider candidates from the broadest possible pool.
"They need to help the management look around corners."
Imran points out that different boards may have different success factors and requirements based on whether they are a family board or publicly listed. However, he believes that incoming board members need to develop a reputation for asking good questions and providing good answers. Effective board members should look for ways to help the company avoid traps and anticipate challenges. They should encourage management to think big and be ambitious by asking the right questions. They should not provide all the answers but offer guidance and allow management to develop their solutions.
"The demand for good board members is extremely high"
Imran explains that they often look for board members from FTSE and DAX, but it is not just about where the companies are listed but also how they operate. For boards in the Middle East, board members from global companies with experience in emerging markets and different geographies are most sought after.
Middle East boards are becoming more sophisticated due to the demands and aspirations of the companies and entities they oversee. This includes government-related entities and family businesses that now have global aspirations. As a result, there is a high demand for competent board members. To be successful in the boardroom, these members must bring tested judgment from their prior board or executive roles and then demonstrate this in making decisions on important matters such as investments, mergers and acquisitions, and transitioning between public and private ownership. They must also possess the ability to provide constructive feedback to the Chair and management in a way that encourages positive actions. Imran notes that these behaviours are not easy to master.
Culture plays a significant role in the region, particularly the Middle East and GCC culture, which people must respect and aspire to. However, boards and companies seek individuals who bring international thinking and best practices. It is important to note that in some cases, there may be unclear boundaries between ownership status, ultimate shareholders, the board, and the management, especially in family businesses. Board members must be able to navigate and operate within these dynamics, which differ from Western boards, where these alliances are often more clearly defined.
"Companies should not hire a board director when a consultant or advisor can fulfil the role"
Imran outlines the Egon Zehnder view that companies should not hire a board director when a consultant or advisor can fulfil the role. Specialist insights can be obtained through advisors, managers, or by creating an advisory board, and the main board should consist of individuals who can contribute to a wide range of topics rather than being focused on a specific area. The main board should be represented by individuals who can discuss many topics, as the focus of hot topics may change over time. For example, having a CEO, CFO, or other individuals with relevant qualifications on the board may be more important than having someone with a narrow focus. However, this may vary for specific technology companies.
The three top takeaways from our conversation are:
Make sure you practice good judgment. Good judgment always comes into play whether a board is looking for a board member or aspiring to be board member.
Bring curiosity and insight to ask the right questions versus giving answers.
Always hire to contribute to a broader board across various topics and hire consultants where specific expertise is needed.
Don't forget to subscribe never to miss an episode of the Better Boards Podcast Series. Available on Apple, Spotify or Google.
To find out how you can participate in the Better Boards Podcast Series or more information on Better Boards' solutions, please email us at info@better-boards.com.