The Role of Boards in Family-Owned Enterprises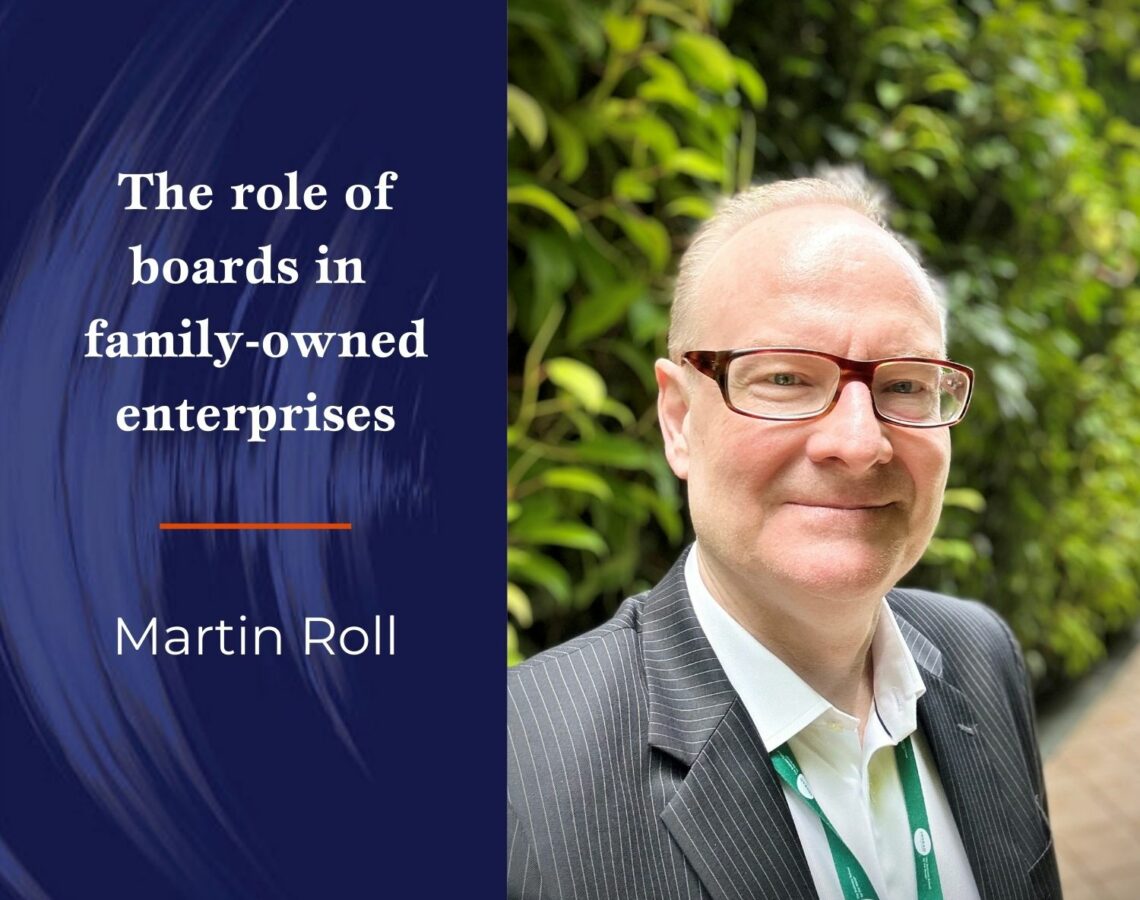 Family-owned or family-led enterprises are the backbone of thriving economies across the world.
Family-owned or family-led enterprises are the backbone of thriving economies across the world. Family-owned enterprises account for a majority of companies, providing 70% of the global GDP and 60% of global employment. They are a key driver of global business and growth, so their sustained long-term value creation is important for the economy.
Families-owned enterprises have always benefitted society, and next-generation leaders seem to have a renewed appetite to make lasting change. However, the long-term success of family firms across multiple generations is neither a given nor an easy task. There are many complexities involved when ownership, management, and family roles overlap.
Family business owners, leaders, and the next generation face many challenges in preparing for the long-term future. One of them is to have proper governance mechanisms and boards in place. Yet when we talk about boards and governance, we do so mainly with large, listed corporates in mind.
In this podcast, Dr Sabine Dembkowski, Founder and Managing Partner of Better Boards, discusses the role of boards in family-owned enterprises with Martin Roll. Martin is a senior advisor to Fortune 100, Asian firms, global family businesses & family offices. He has more than 25 years of board & C-suite counselling experience and is an advisor to global boards and prominent business families. Martin is also a mentor for next-generation leaders in family-owned enterprises. He is a Distinguished Fellow at INSEAD Business School and a former Senior Advisor to McKinsey & Company. Further to this, he is the author of the global bestseller "Asian Brand Strategy" and co-author of "The Future of Branding" – with two new books in the pipeline: Family Business Strategy (2023) and Family Office Strategy (2023).
Some of the key takeaways of the conversation include:
"Family-owned or family led business receive less attention in the public debate"
Martin explains that corporate governance principles are the same for family-owned enterprises as for other entities. However, there are differences. In a family-owned enterprise, a board may comprise family members with independent directors, or only family members. Also, family board directors may be owners and/or leaders in the company. Regardless, the board must ensure the business operation is aligned with the values and goals of the owning family, and act as the facilitator of a long-term journey, ensuring that the company changes over time and is always fit for purpose.
With an owning family or sometimes several owning families, anyone sitting on the board is challenged to ask difficult questions that will keep the business competitive. This can include questions where family members might have conflicts, disagreements, or different aspirations for the business. Martin notes that many of those issues may arise in family-owned firms because, compared to public markets, there are more emotions and tensions between shareholders and different generations.
"Who really has the power on the board?"
Martin believes the board put together for a family-owned business is going to mirror global markets in those intricacies that relate to that particular family. So, flexibility is needed, which is possible because family-owned enterprises are not bound by the same SEC rules and monetary authority rules (unless partly listed). He recommends ensuring more informed reporting lines (or many complex reporting lines) to intertwine ownership, family members, and management. As more people are involved, there are more reporting lines and a lot of informal communication because family, ownership, and business interests overlap.
"In family-owned enterprises, there is this underlying notion of a very long-term view"
Martin believes there are four things he has seen working in family-owned enterprises that larger organisations could learn from. Firstly, he outlines the importance of the long-term view. Secondly, the fact that family-owned enterprises tend to think in generations does not mean they are not agile. On the contrary, they can be very competitive. Thirdly, family firms are driven by purpose and often values, ethics, and sometimes legacy. Martin finally believes family firms are a force for good in the world because a family enterprise often comes from a particular region, town, city, and/or culture. They very often want to give back to that community.
"If you are making space for outsiders, you also need to give them that space"
Martin finishes by looking at the challenges for boards in family-owned enterprises and the difference between family and non-firm/non-family directors. He notes that external directors need to understand the history of the enterprise, as the culture of a family firm is a combination of past, present, and future, and that culture must be respected. He describes that in a family-owned enterprise, there is a lot of entitlement and a sense of ownership (and aspiration for ownership). This needs to be managed because behind it will be much emotions and complexity, and maybe tension to be navigated.
The three top takeaways from our conversation are:
Governance matters for family firms, but it is often underestimated. They need to start early to adapt and learn and then see governance as a journey and not an end state, to add new skills, get an outside perspective, freshen up, and innovate, while still keeping checks and balances.
Family business boards are more informal and more complex to manage. The oversight is different and takes extra attention and skill, but it can also be a fun and rewarding journey.
Learn from family-owned enterprises because they have a long-term view and are more patient but still very competitive. Learn from the best practices in corporate governance, but also be willing to create your own model because all family firms are different.
Don't forget to subscribe never to miss an episode of the Better Boards Podcast Series. Available on Apple, Spotify or Google.
To find out how you can participate in the Better Boards Podcast Series or more information on Better Boards' solutions, please email us at info@better-boards.com.