EXTERNAL EVALUATIONS | ADVISORY SERVICES | INSIGHTS PLATFORM
Fresh insights and tangible results for your next external evaluation.
Our research-based approach is expert-led and fully facilitated. We provide you with the reliable foundation required to generate tangible results.
Helping you improve the effectiveness of your board.
All boards face unprecedented  challenges which require a fundamental rethink of how to operate and evaluate. By leveraging the 7-Hallmarks of Effective boards, our fully-facilitated external evaluations provide a solid foundation to ensure your board is adapting to the ever-changing environment.
Our data-driven approach and the results we achieved in leading organisations across several sectors, provide the peace-of-mind needed to develop a higher performing, more effective board.
An advisor-led, data-driven process that generates tangible results.
Individualised reports
and feedback sessions
We are the first service provider to offer individualised reports for every board member. We help each board member to understand how they can become more impactful and make a greater contribution to the overall performance of the board.
Data-driven
group working
sessions
Designed specifically for your board. We tailor each group session following the board evaluation process. We outline an agenda, plan and agree a process – all in collaboration with the project owners.
Results and
analysis
presentation
We prepare and discuss the results with your board. We detail key findings and make suggestions for focus areas to implement.
Disclosure
within the
annual report
Where desired, we can provide input for disclosure of the board evaluation text within your annual report, drawing on best practice examples.
Facilitated
kick-off
sessions
We provide insights into our proprietary research and how all board members can use the 7-Hallmarks of Effective Boards. The board – as a team – will gain vital insights into the levers they can use to improve working practices and increase effectiveness and performance.
In-depth
interviews by
our board advisors
Our board advisors are trained to conduct in-depth interviews. With vast experience they know what to look for and where to probe, providing vital insights and making recommendations.
Observations of
board and committee
meetings
Our board advisors can provide broader and deeper insights into the dynamics of your board to complement the qualitative and quantitative data collected.
Review of board
and committee
papers
By analysing your board and committee papers, including any documentation of your board working processes, we can gain deeper insights to shape the integration of our recommendations.
Digital platform
access including
full analysis and insights
Your board members all receive secure access to the Better Boards digital questionnaire. The questionnaire is based on our proprietary, peer-reviewed research and proven to generate positive, measurable results.
We ensure regular alignment sessions take place with the Company Secretary, the Chair, the CEO or the HR Director.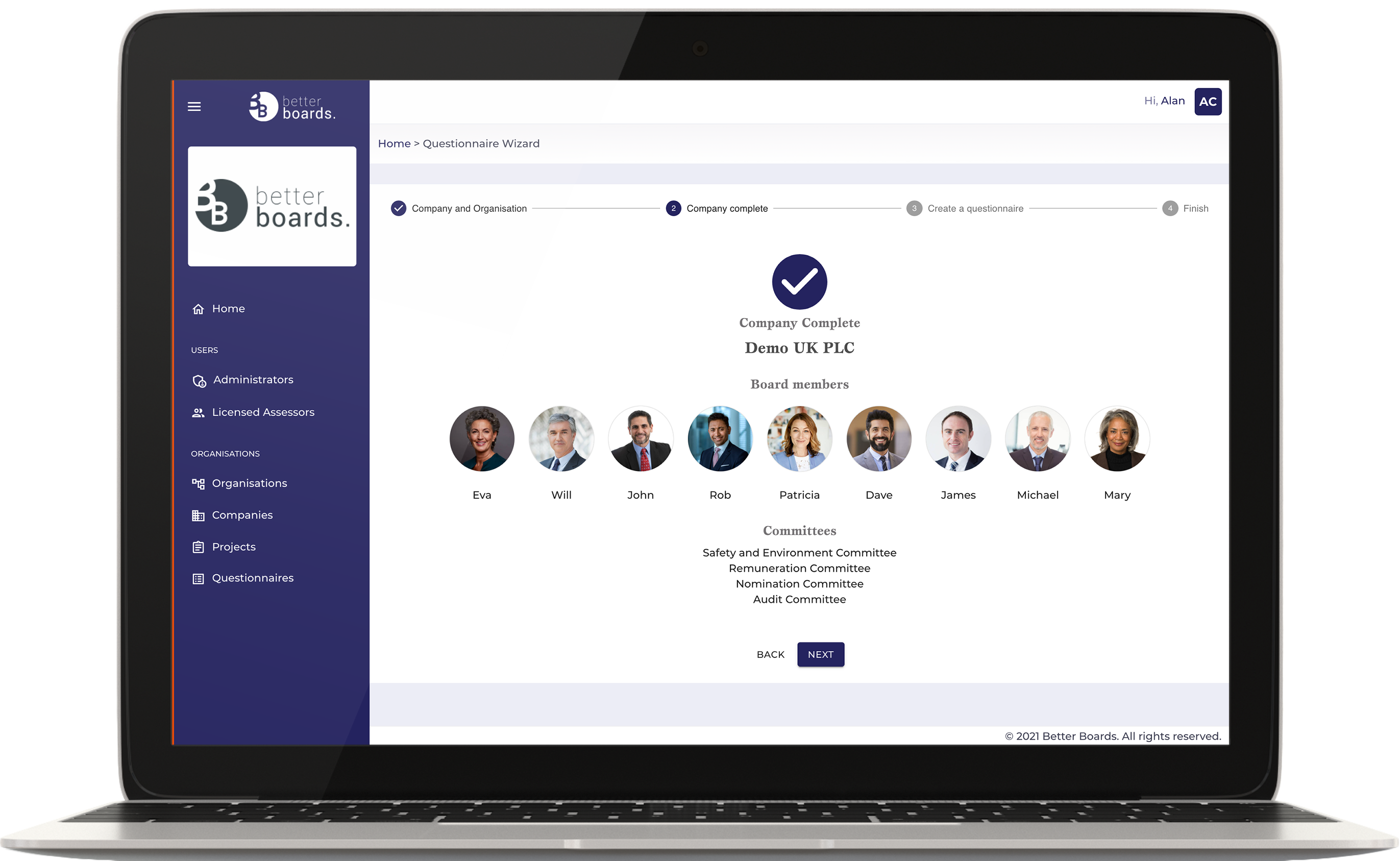 We can provide you with access to the Better Boards Board evaluation platform so that you can use it as part of your fully facilitated board evaluation.
The platform is intuitive to use. If however, you need any help, our excellent service and support team are on hand.
We can provide training tailored to your needs and help you establish a smooth board evaluation and continuous development process.
The 7-Hallmarks of Effective Boards.
The 7-Hallmarks of Effective Boards is based on our proprietary research and has proven to generate results.
Each of the 7-Hallmarks are levers you can use to increase board effectiveness.  By understanding the interplay of these levers for each board member, you can maximise the effectiveness of the board as a whole.
The "7-Hallmarks of Effective Boards" are peer-reviewed and published in the US, the UK and across Europe by Dr Sabine Dembkowski
Grounded in research, evidence-based and peer-reviewed
Comprehensive
Action-oriented
Efficient