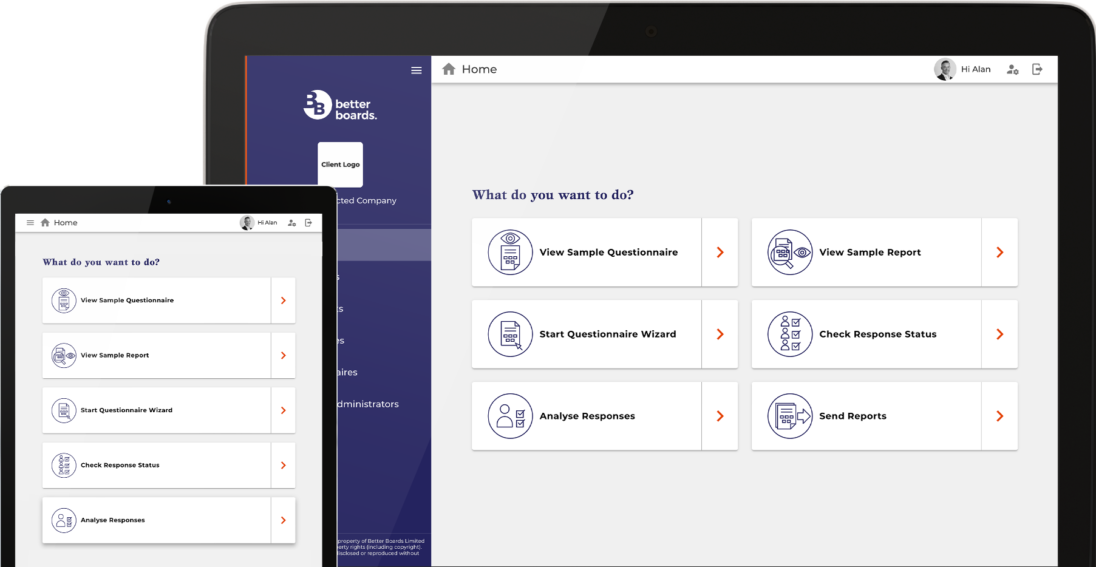 The Evaluation platform that provides you with all you need for your evaluation
Set up your company and board, tailor a research-based questionnaire, start the evaluation, track live progress, analyse, and generate individualised reports for every Director all in one place.
The simple visual, easy, and intuitive design saves time and allows you to focus on what really matters to increase effectiveness and performance of your board.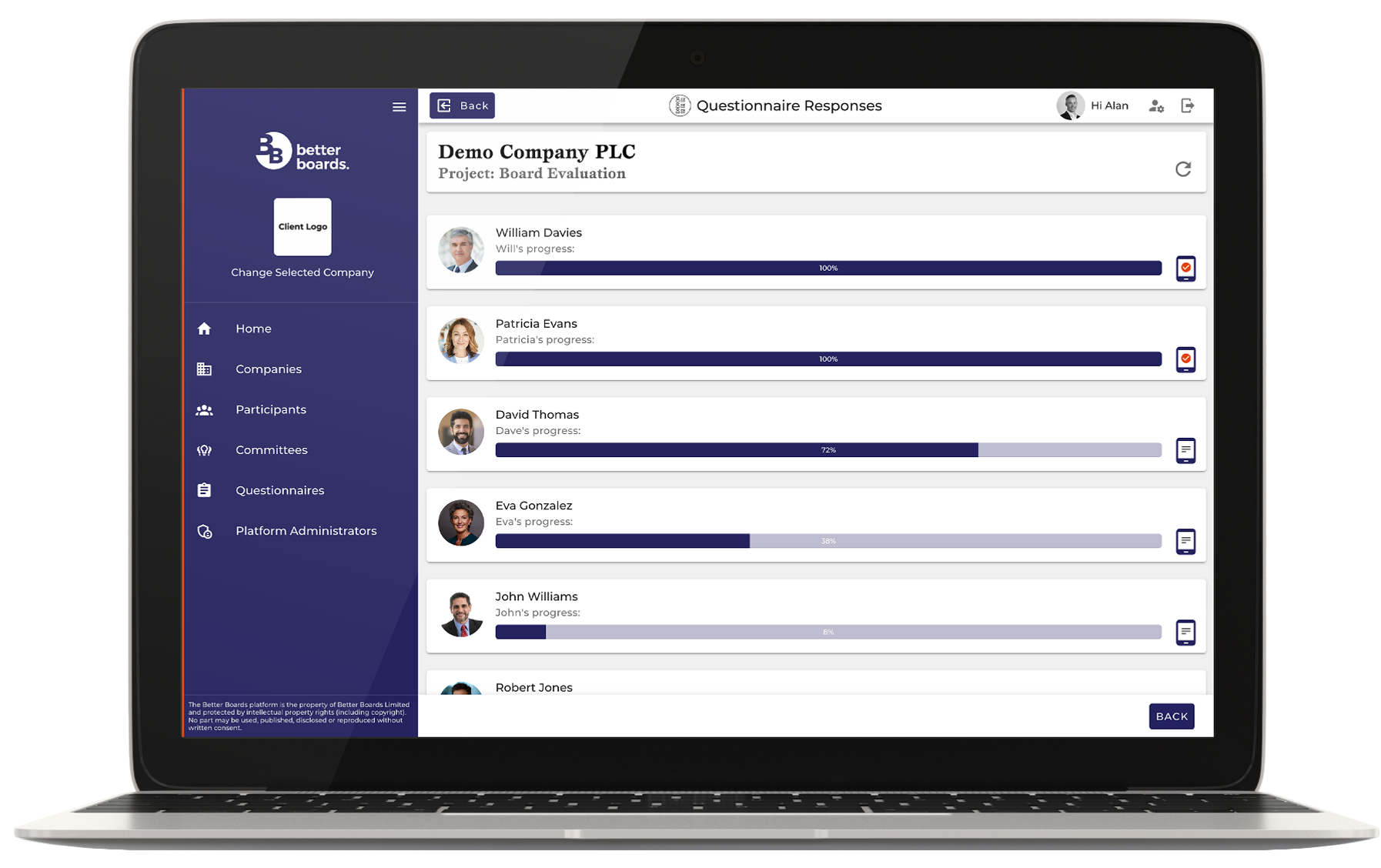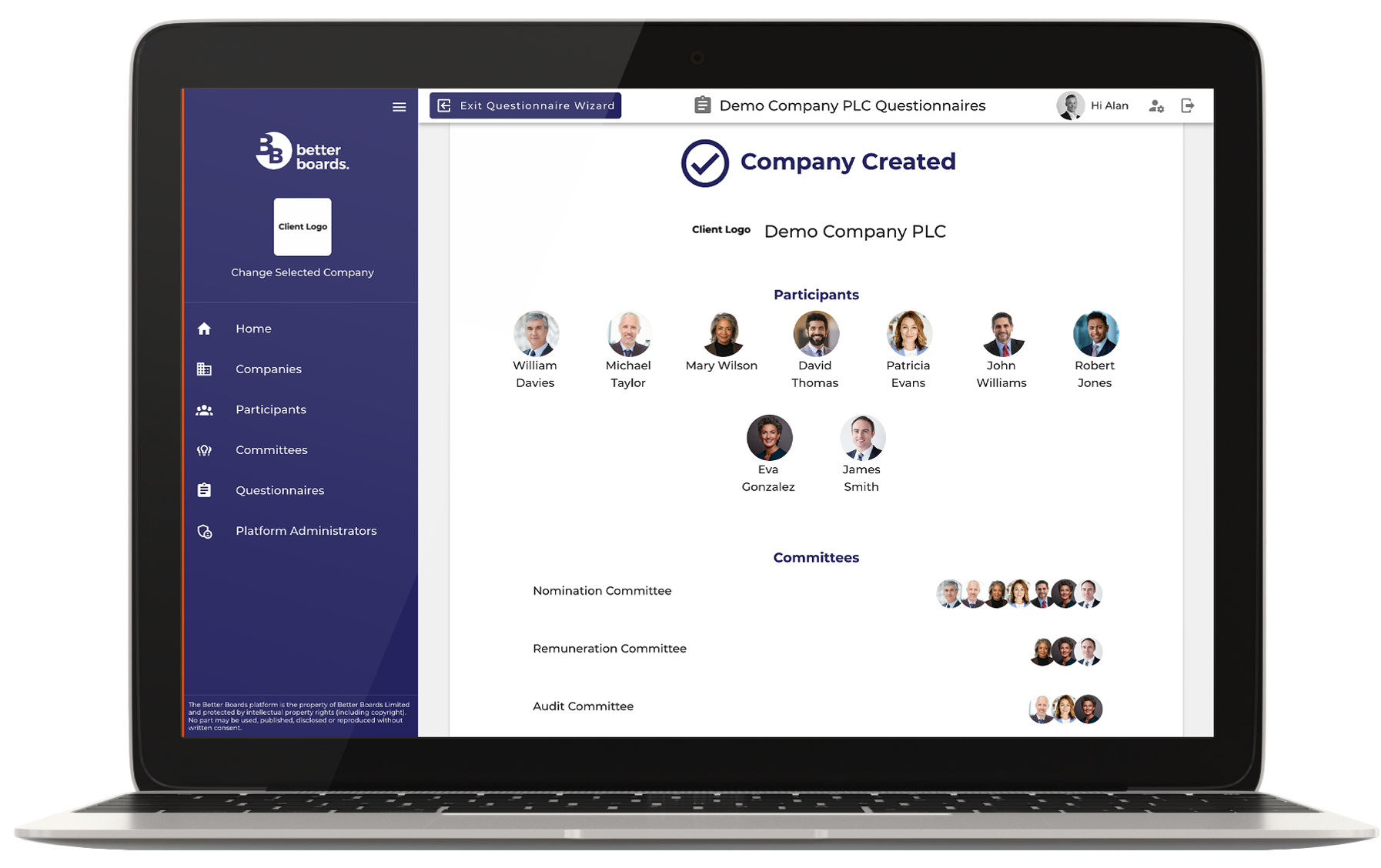 A thought out guided process helps you to set up your evaluation
Features like track live progress ensure that you are in control throughout the whole process
Automated analysis of quantitative data, comparisons with other boards, generation of graphs and display of opportunity areas provide you with the data you need to increase individual and collective effectiveness and performance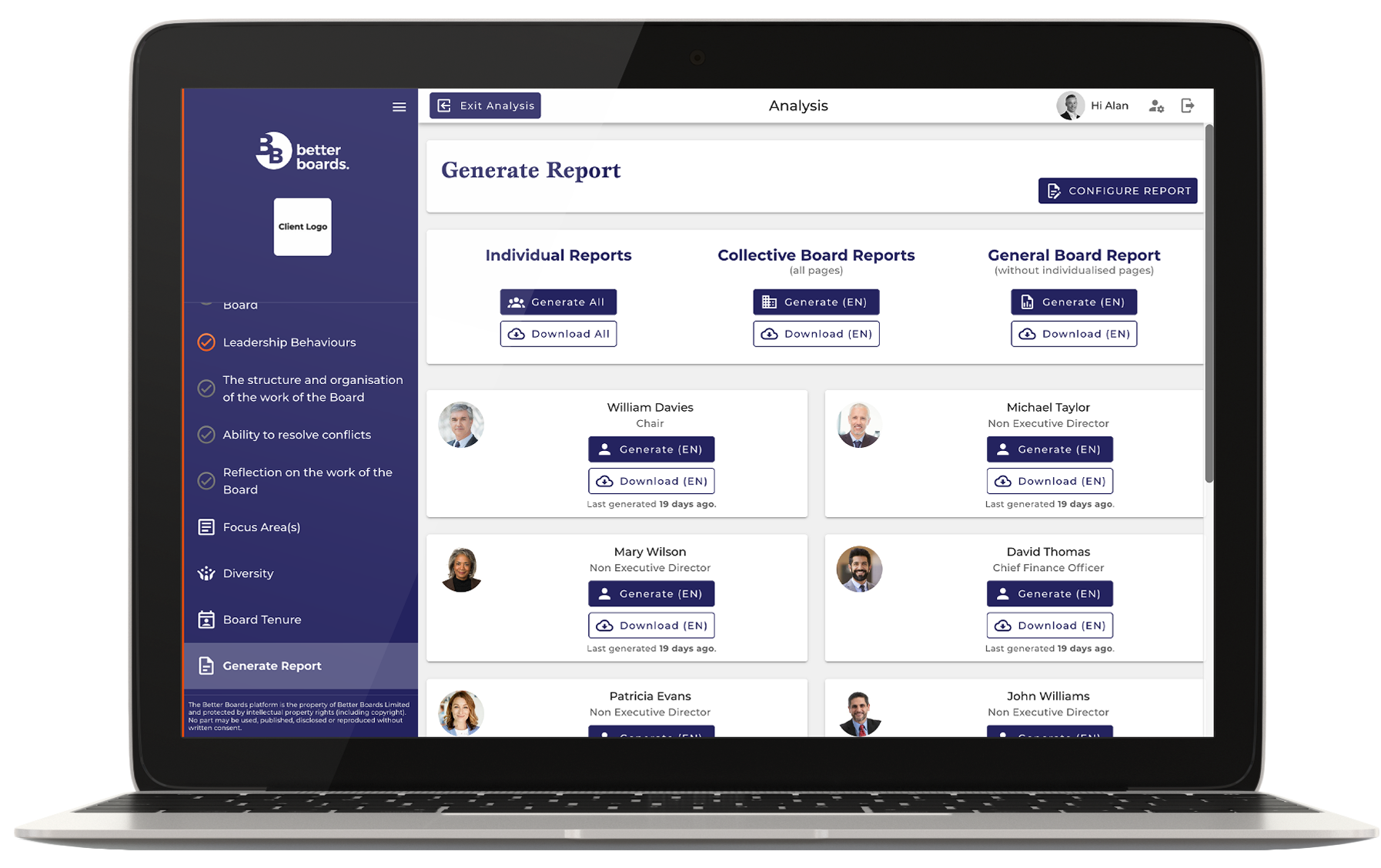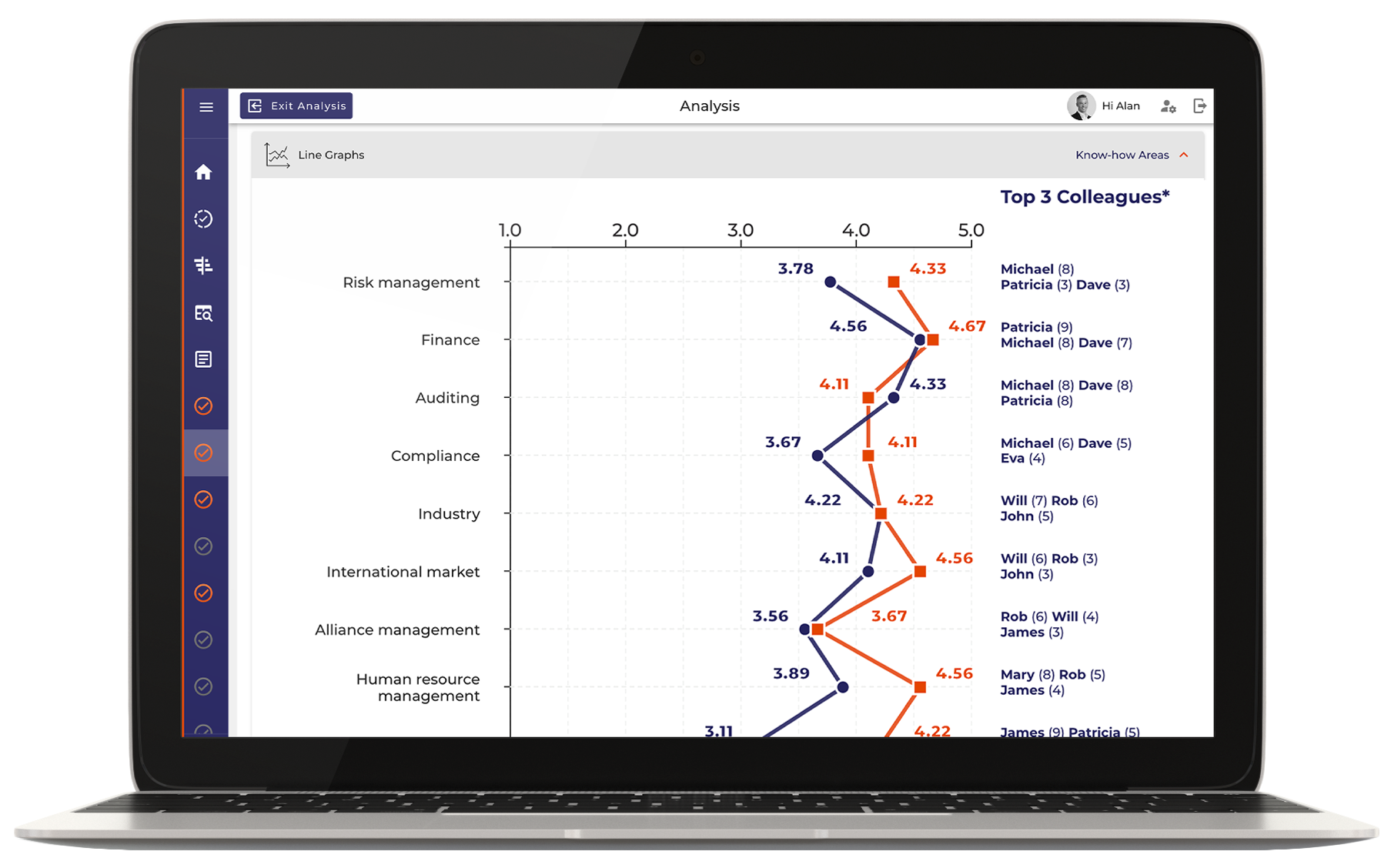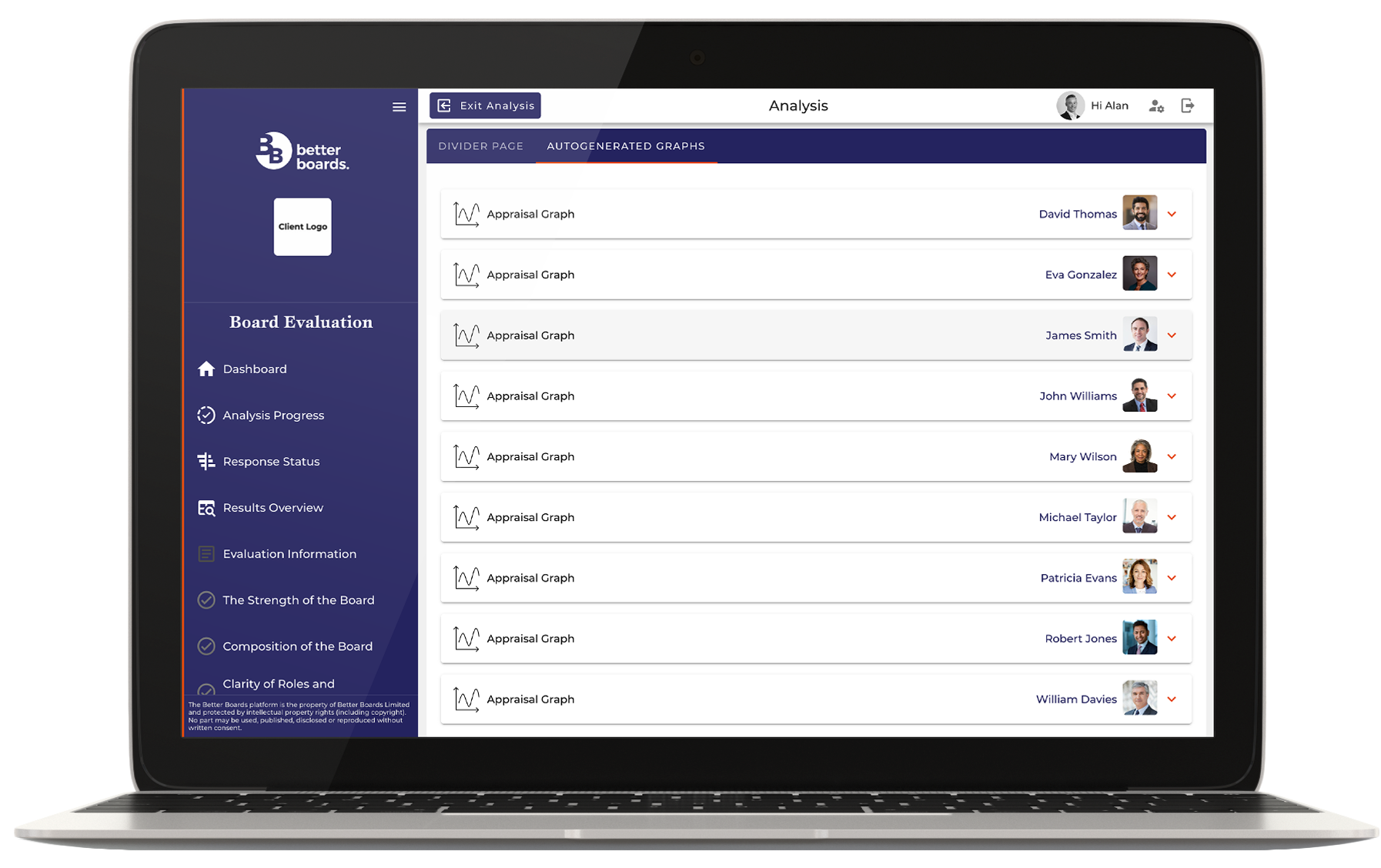 How do we secure
your data?
Our systems are hosted on Amazon Web Services (AWS), which provides high availability while keeping strong privacy safeguards in place. Your data is stored in highly secure AWS data centres, which allows us to provide a reliable service and keep your data available whenever you need it.
Leading physical and environmental security measures are employed to secure these data centres, resulting in highly resilient infrastructure. 
The link below has more information about AWS security practices:
AWS Security
Our Development
& Application Security
The Better Boards platform is developed using a security-oriented design according to the OWASP Top 10 standards using secure coding techniques and best practices. For security and
control, development, testing, and production environments are kept separate, and deployment is managed by our CI/CD process.
We ensure all code is peer-reviewed before it is deployed to production through our CI/CD process, including static code analysis, vulnerability assessment, end-to-end testing, and unit testing to address authorization aspects and quality.
Our Infrastructure Security
Another layer of security is the infrastructure. As stated, Better Boards is hosted on AWS that has been accredited with the following global standards CSA, ISO 9001, ISO 27001, ISO 27017, ISO 27018, ISO 27701, PCI DSS Level 1, SOC 1/ISAE 3402, SOC 2, SOC 3. Furthermore, our infrastructure is protected using multiple layers of defence mechanisms, including:
DDoS mitigation and rate-limiting
Comprehensive logging of network traffic
Comprehensive protection against all known infrastructure (Layer 3 and 4) attacks.
The Better Boards infrastructure provides high availability while putting strong safeguards in place for customer privacy.
The Better Boards platform encrypts its data both in transit and at rest, this ensures our platform is security-sensitive to meet strict encryption compliance and regulatory requirements.
Data In Transit is encrypted using TLS 1.2 as a minimum which creates a secure HTTPS connection to make API requests.
Data at rest is encrypted with AES-256-GCM a symmetric algorithm based on Advanced Encryption Standard (AES) in Galois Counter Mode (GCM) with 256-bit keys, an industry-standard for secure encryption.
Better Boards uses a key management system (KMS) to control the encryption keys that are used to encrypt your data.
Better Boards uses this technology to keep your connection secure and safeguarding any sensitive data sent remains private, preventing criminals from reading and modifying any information transferred, including personal details.
Our platform is entirely cloud-based, and our data centres and architecture are located on Amazon Web Services which has been built to meet the requirements of the most security-sensitive organisations.
The platform employs the state-of-the-art physical security measures available.
The AWS hardware running the Better Boards platform uses FIPS 140-2 validated hardware security modules (HSM's) to isolate and protect Data.
The data on the Better Boards platform is private and confidential, which is why multi-factor authentication is required to access Better Boards technology resources. Our production password policy prohibits reuse and requires complexity, expiration, and lockout. Access is granted on a need- to-know basis utilising the least privileged rules. Permissions are reviewed quarterly, and admission is revoked immediately upon termination.
Our Disaster Recovery and Backups
It is Better Boards' commitment to provide continuous and uninterrupted service. We employ a backup system to minimise downtime and data loss. User data is backed up regularly and backed up data is retained for 90 days. In the event of a disaster, we can quickly redeploy our whole platform using Infrastructure as code to ensure your business continuity.
Application and infrastructure systems log information to a centrally managed log repository for troubleshooting, security reviews, and analysis by authorised Better Boards employees.
Our Logging and Monitoring
Application and infrastructure systems log information to a centrally managed log repository for troubleshooting, security reviews, and analysis by authorized Better Boards Employees.
To keep your data secure it is also important that you take steps to keep your account secure by using sufficiently complex passwords and storing them securely.