How do boards preside wisely over transactions to avoid shareholder value destruction?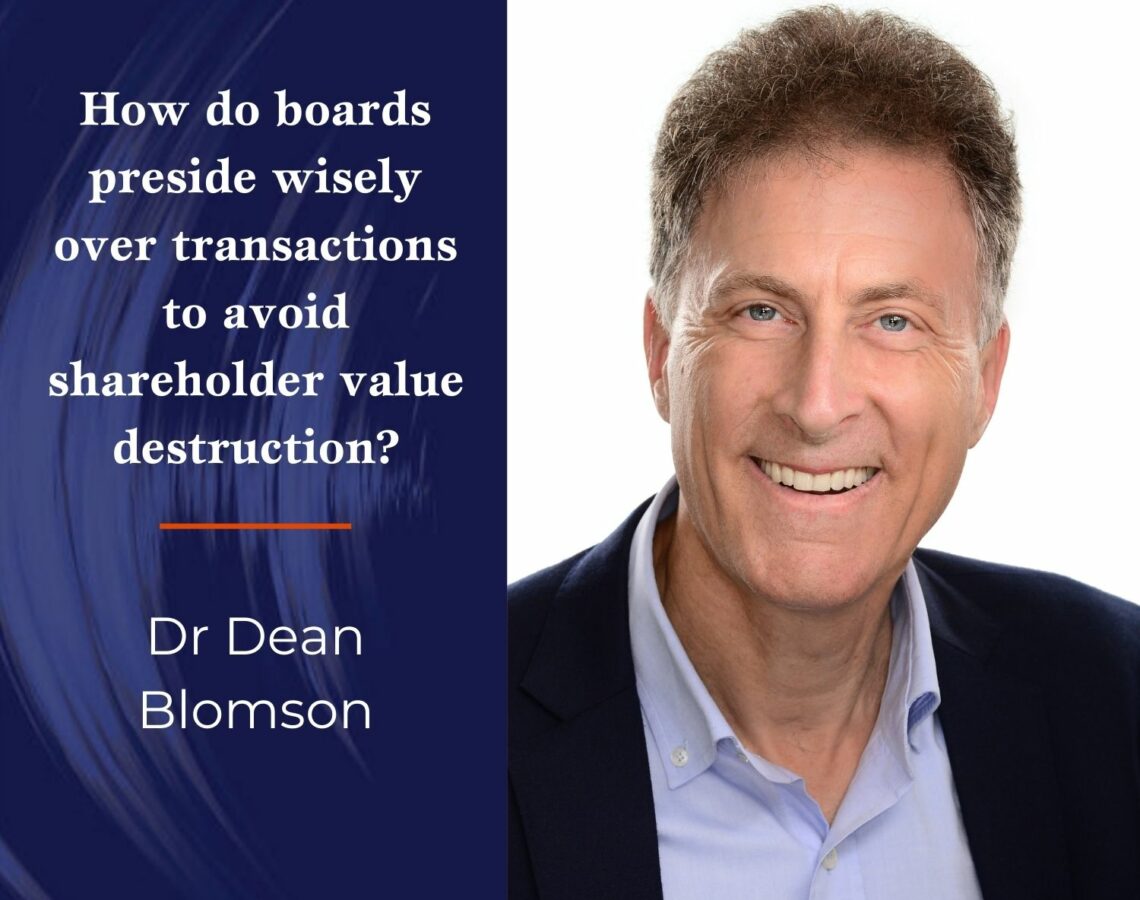 It is well-known that the track record for successful acquisition is poor.
It is well-known that the track record for successful acquisition is poor. All kinds of studies with different methodologies generally point to the dangers of acquisitions, some claiming that as much as 70% of deals underperform.
So, if the stats are generally correct, this would seem like a massive risk for those governing the enterprise. How do they beat the odds and avoid becoming another statistic of value destruction, by presiding wisely over transactions?
In this podcast, Dr. Sabine Dembkowski, Founder and Managing Partner of Better Boards, discusses this issue with Dr. Dean Blomson, a highly experienced strategy and transformation advisor. Having previously served as a consulting partner with several global consulting firms, Dean now operates his own independent strategic advisory business and is a board director for several start-ups. He is also a part-time professor at the Sydney School of Business, teaching MBA programmes with courses in governance, strategy, and transformation.
Some of the key takeaways of the conversation include:
"The bottom line is that transactions are a 50:50 proposition for most acquirers"
Dean starts by explaining how he stumbled upon governance during an Advanced Diploma in company law when he did his dissertation on an aspect of reckless mismanagement. As a consulting partner with Ernst and Young in Sydney, after a particularly spectacular transaction 'fail' that his team was drawn into trying to remediate, he started thinking about board effectiveness and what boards of the acquirer need to do to preside over (or provide effective oversight over) transactions.
"Failures during' are often directly attributable to the lack of priming and the lack of preparation"
Transactions can fail before, during, or after acquisition. Dean relates that most failures before and during the acquisition phase can be attributed to a lack of preparation. Maybe the transaction happens in a rush, without proper priming at the board level, in that the board hasn't had time to work carefully through an M&A strategy with the executive team. Or the foundational organisational work (assembling skills, teams, planning etc.) in preparing for a potential acquisition has not been adequately done by the executive.
During the transaction phase of the acquisition, the causes of failure are also prevalent. Dean points out that once a transaction is flowing, specialist firms are often appointed to advise on legal and financial due diligence, investment banking, and tax impacts of the deal structuring. Dean believes this requires a mature, sophisticated executive team and a board working closely to ensure they get cohesive advice. He points out that this can be rare, particularly if the board itself is not skilled and experienced, and there may be a need for board development. So, building those teams of third parties needs to be done carefully, with a management team that can coordinate rather than just sitting back and waiting for the experts to tell them.
"Rush the due diligence, and you end up stepping on a whole lot of landmines afterwards"
Dean explains there are several reasons for failure during the deal-making stage of the acquisition.
Firstly, a lack of discussion between the board and executives about the 'go' or 'no-go' decision gates, so transactions tend to drift if there is no set of non-negotiable criteria
Secondly, and typically, the due diligence is not properly structured and/or is superficial and rushed
Lack of coordination with and input from internal teams at the right time, catching them by surprise.
"There's what I call a conspiracy of silence…"
Dean outlines how the causes of failure reside in the earliest stages, but issues can still arise post-acquisition. Significant cultural mismatches that were not anticipated come to light, or the integration efforts start late or are not well-coordinated or are bungled.
He notes that management, or even the board itself, can lose focus in the post-transaction phase. He warns that if it is felt that the transaction is marginal, there is sometimes 'a conspiracy of silence' on the benefits' reporting and integration progress. The board needs to ensure continued attention is given to their commitments and maintain the tempo of integration.
"What is it that we're looking for?"
Dean outlines three key areas for boards to pay attention to:
Firstly, they need a clear upfront strategy. Why they (executive and board) want or need to grow through acquisition, where they want to grow, how they will do so, what a perfect deal would look like, etc. Then they need to build a target list to work through.
Secondly, boards need to pay particular attention to early preparation and planning. Have they the right skills in the boardroom and amongst the executive team? Are those skills current or have they atrophied?
Lastly, Dean advises a proper understanding of culture. What is the executive team looking at? How will they know they are culturally compatible? The board needs confidence that the executive team really understood the cultural alignment adequately and will manage it wisely.
"Proceed with caution. That's one of the things that boards need to do continuously"
Dean repeats that boards need to have justifiable confidence that the executive has prepared and planned well.
One thing that stands out for him about the best-performing boards is that they recognise that practice makes perfect. Starting small and learning from all prior transactions with the executive team is important. What worked, what didn't work, what could have been done better? It becomes a deliberate capability-building exercise.
Also, the best-performing boards proceed with caution. They keep testing the assumptions of the executive team, stress tests all models, and are very alert to bias in its different forms. Boards need to be continuously proceeding with caution and informed scepticism, and working with the executives –and elicit views outside of the deal team because deal teams can often be compromised (they tend to fall in love with the deals).
"Have an engaged conversation with the chair of the board"
Dean notes that the board should encourage the CEO and the executive team to start early and engage with them about important issues such as:
the direction and progress of the transaction agenda
their own skills versus what is really required
their respective responsibilities and decision-making rights (what things the executive want to have some autonomy over; and topics the board needs to have visibility of and direct input to)
do they have an end-to-end process for how the transaction may run; and
what are the stage gates to engage with the board?
Dean's best advice is for the board, CEO, and executive teams to have an engaged conversation about how they will run things end to end.
The three top takeaways from our conversation are:
Be prepared. Do the foundational thinking and preparatory work
Be disciplined, follow a process, and stick to the plan. If you said you're not going past the stage gates, or this is a non-negotiable criterion, you need to stick to it. Of course, plans need to be flexible, but if necessary, understand why you need to move away from the plan.
Be challenging of your thinking individually and of each other.
Don't forget to subscribe never to miss an episode of the Better Boards Podcast Series. Available on Apple, Spotify or Google.
To find out how you can participate in the Better Boards Podcast Series or more information on Better Boards' solutions, please email us at info@better-boards.com.