The Inspiring Life of a Director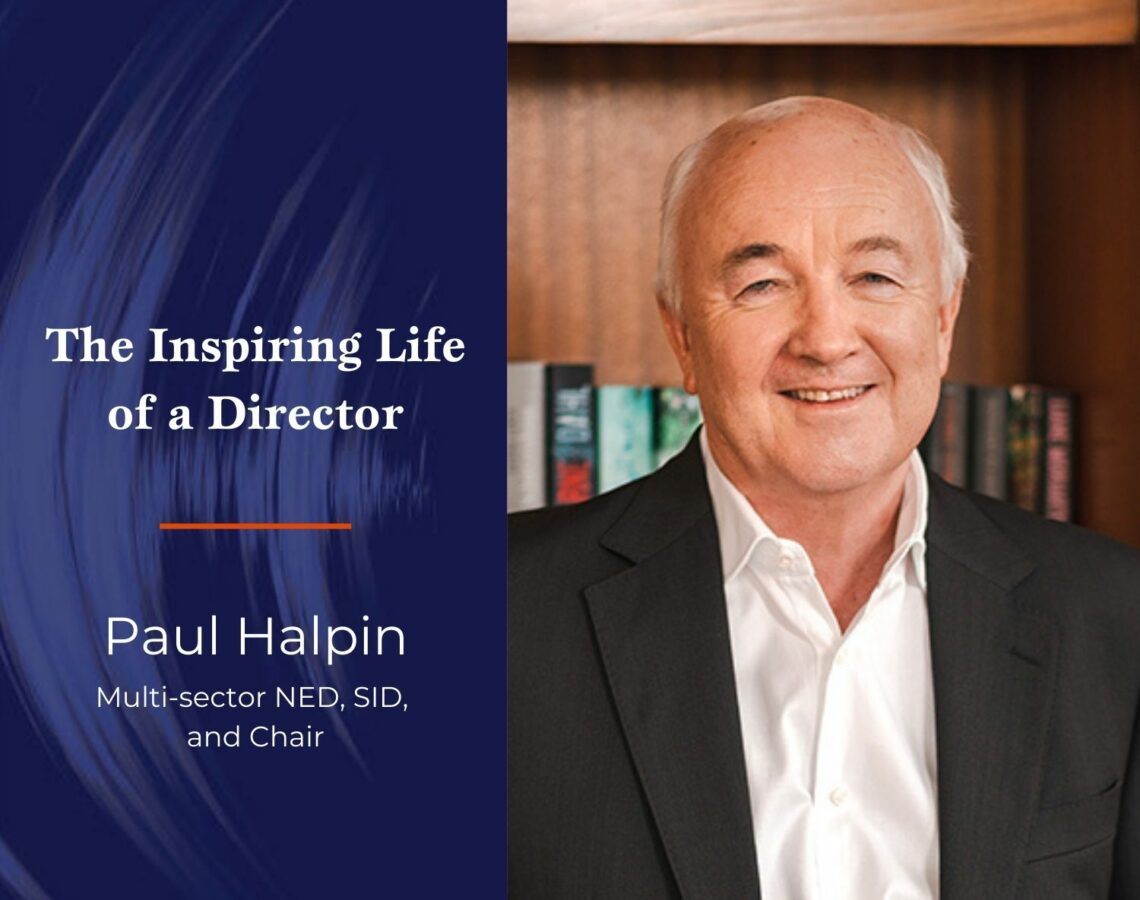 We all have dreams.
We all have dreams. When we sit in our offices, we probably all wonder what life would be like If we made some different choices. In this 100th podcast In the Better Boards podcast series, Dr Sabine Dembkowski, Founder and Managing Partner of Better Boards, discusses the inspiring life of a Director with Paul Halpin, who, together with his wife, made conscious decisions while developing a successful business and serving on the board of multiple organisations.
Paul is an accomplished Non-Executive Director and Chair of Audit & Risk. After 25 years at PwC in Europe and South Africa and eight years as an entrepreneur based in Mauritius, Paul became a portfolio Non-Executive Director in 2012. Based in Mauritius for almost 20 years, he serves on listed company boards in India, East Africa, and Mauritius. Paul is most comfortable with complex and challenging corporate issues, drawing upon his advisory, corporate turnaround, and audit experience with PwC and what he learned during his entrepreneurial journey.
Some of the key takeaways of the conversation include:
"One had to dream of the possibilities of working overseas"
Paul remembers entering the workforce in the early 1980s during tough economic times. There was a global recession, an oil crisis going on, and being based in Ireland he could only dream about an international career. Now, Paul looks back fondly on his "young dreamer" self, knowing how surprised that dreamer would be by the global path of his career.
Paul counts himself fortunate to have secured a job with PwC that opened doors for him overseas. From his base in Dublin, he agreed to a posting with PwC in Johannesburg in the 1990s. Nelson Mandela was President, and investment was pouring into South Africa. Paul considers his four years there very formative years, where he was exposed to the entrepreneurial mindset of South Africans and developed a new level of self-confidence in risk-taking. His family also got more comfortable and confident with risks, allowing him to accept a second international posting to London in the 2000s.
Yet, despite being a long-time partner in PwC, Paul says he wasn't satisfied. Growing his comfort with risk was one thing – and putting that risk tolerance and confidence to the test was something else entirely.
"There was an entrepreneur always trying to get out"
Paul is fascinated with business successes and failures, something he says his colleagues continually note about him. So, even as he rose to partner and built a robust 25-year career inside PwC, Paul says he always wondered if he could have a viable business life outside a Big 4 firm.
In 2004, Paul had a unique opportunity to leave PwC after IBM bought the advisory business. He recalls talking it over with his wife, and together they made a big leap – moving their young family to Mauritius. Paul says they chose Mauritius because it is consistently rated as one of the best places in Africa for business, and the quality of life is excellent.
Mauritius remains Paul's home even now. He happily recalls working for eight years in his own business, building it to the point that others wanted to buy it. He says this was a goal but also a fresh opportunity.
"After a successful exit, there's a natural inclination to step back… but it was also natural for me to work with other entrepreneur-led businesses"
Paul notes he is uniquely able to relate to entrepreneurs. This made being approached to be on his initial two boards feel quite natural and organic for him – he recalls there being no pressure about forcing it as a next step. Instead, Paul relies on organic word of mouth and referrals to uncover new board opportunities.
"My work ethic, my hard-working time as an entrepreneur, was appreciated when I joined other people's boards"
Paul has a strong work ethic from his years at PwC. He also understands how to work hard in one's own business. This combination of experiences makes him unique and is appreciated by his board partners.
His independence is also an advantage. Paul comes to boards as a financially independent player, free from encumbrances on his judgement. However, from his time within PwC, Paul says he also pays close attention to how all the different independent parties on the board must work together on governance issues and ensure board effectiveness. He is always striving to show he is independently assessing something and working with his fellow board members and executives to make decisions, assess strategy, or reject proposals in a timely manner.
Paul feels this approach and this mindset earn him a certain appreciation from hard-working management teams and owners. It contributes to a positive boardroom chemistry and makes his board tenures into time he enjoys.
"Diversity is one of the lucky factors that contribute to the enjoyment"
Paul says that, being based in Mauritius, he experiences a lot of natural cultural diversity. People from India, Asia, Africa, and Europe populate the social and business scene. While many with a European background serve primarily on European boards with a European cultural majority, Paul serves on boards in Mauritius, East Africa, and India, where he is the cultural minority.
Some might find this a difficult operating position. Not Paul! He considers it a lucky factor that adds to his enjoyment of his work, as he has the chance to interact with highly intelligent people who bring a richness of perspective to the obstacles and issues they jointly face as board members.
"The commonalities are greater than the differences"
Paul says that while everyone he works with comes from very different backgrounds, they have more in common as members of a board than one might expect. Their motivations are similar in terms of getting to the best solutions. He feels board effectiveness overall is enhanced by having top talent from a multiplicity of backgrounds involved and that rather than focusing on differences, his boards just get on with it in terms of problem-solving, evaluating strategy, and doing top-tier analysis.
In fact, when discussing the characteristics of a truly effective director, Paul says emotional elements top a specific background. Being able to manage emotions, see the good in others, spot and address blind spots or biases, and set appropriate boundaries helps create an environment where boards can elevate the quality of conversations and results.
"Most people I've met in the boardroom haven't gotten there by following a conventional path"
Paul says that while a board member's resume might imply they've followed a conventional path, most truly exceptional board members have a deeply individual story to tell. Plus, by pursuing continuous learning, seeking connections with those from unconventional backgrounds, and embracing fresh ideas, directors can maintain and grow mental agility.
The three top takeaways from our conversation are:
Life is not a dress rehearsal. Focus on happiness in your life, which will help you in your directorships.
A strong work ethic, while remaining focused on the strategy and the long-term, will earn the respect of your colleagues.
Always ensure you have a financial cushion to be truly independent in your board directorships.
Please contact sabine.dembkowski@better-boards.com for a copy of the full text blog.
Don't forget to subscribe never to miss an episode of the Better Boards Podcast Series. Available on Apple, Spotify or Google.
To find out how you can participate in the Better Boards Podcast Series or more information on Better Boards' solutions, please email us at info@better-boards.com.