On Building Inclusive and Equitable Cultures On Boards and throughout the organisation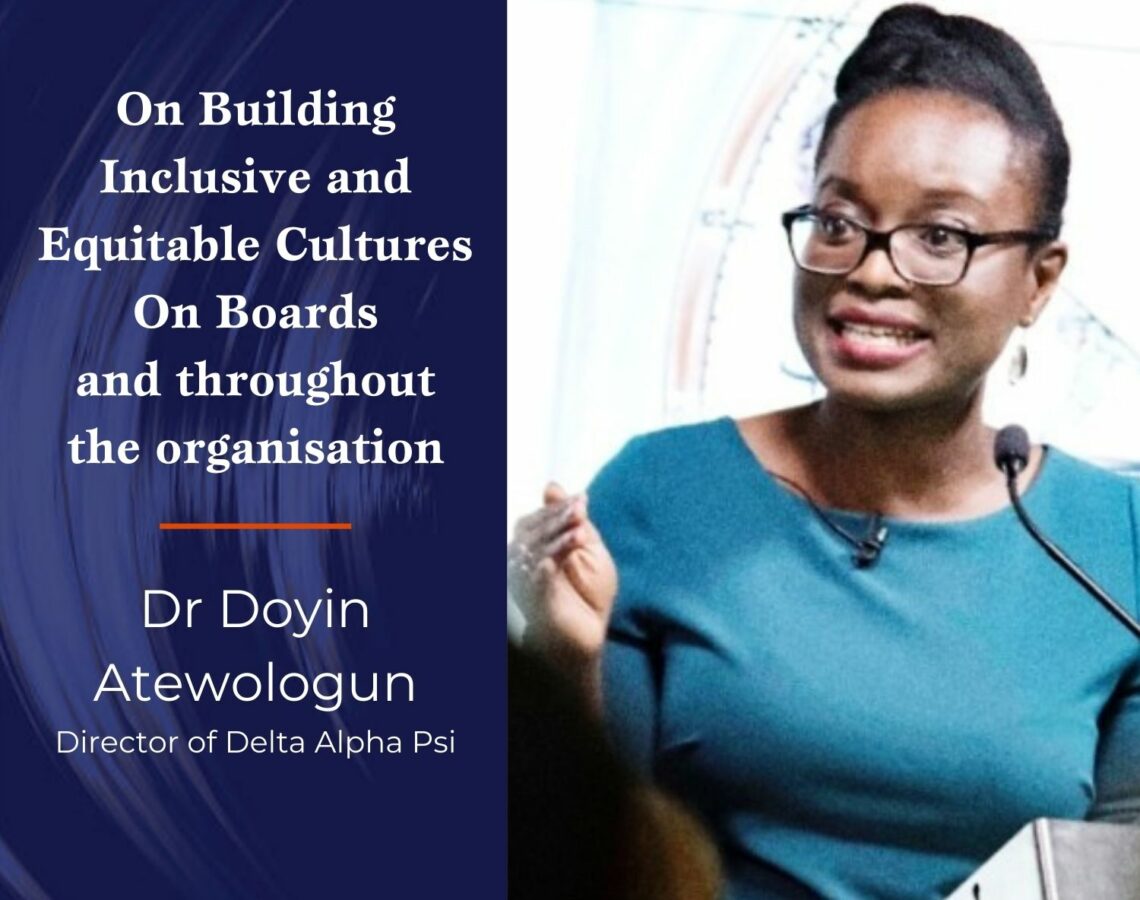 There are many types of differences and diversity, and not all are visible or recognised.
There are many types of differences and diversity, and not all are visible or recognised. But what can be done to build and maintain a truly inclusive and equitable board?
In this podcast, Dr Sabine Dembkowski, Founder and Managing Partner of Better Boards, discusses building inclusive and equitable cultures with Dr Doyin Atewologun, Director of consulting firm Delta Alpha Psi.
Doyin is a business psychologist, executive coach, scholar-practitioner, regular media contributor, and multi-award winner in recognition of her work on driving evidence-based inclusion in organisations. She is Director of Delta Alpha Psi, a leadership and inclusion consultancy; a member of the advisory board for the Carlsberg Foundation study on the Equality, Diversity & Inclusion Market in Europe; Academic Adviser on the UK government-backed Parker Tyler Review on ethnicity on FTSE350 boards and Advisory member of the Co-operative Group Limited Think Tank on Diversity & Inclusion.
Some of the key takeaways of the conversation include:
"Different differences have an impact"
Doyin opens by explaining that inclusion is about the degree to which difference is recognised and valued, regardless of the type of difference. She highlights that in some geographical locations and cultures, certain differences matter more than in others, and some differences are visible and some not so visible, such as neurodiversity or religion. She believes there is a need to think intentionally about different identity dimensions and how they matter differently. Doyin feels that boards have a role as role models because of the work that boards and their members can do as a powerful social system. But that system has structural inequities. To build organisations that are gender, race, disability, or neurodivergent inclusive, we have to understand how structures may be exclusive based on certain groups. But structure alone is not sufficient. She believes individual action is very important, and the key question that everyone in the boardroom should ask is: 'What is your own compelling driving force for equality in the business?'
"Analyse that assumption that you're sacrificing competency for diversity"
Doyin explains that, in her opinion, there are three different types of work to achieve diversity and inclusion: thinking work, talking work, and doing work. She defines thinking work as ongoing alertness to the less visible structures around us, being a critical thinker and challenging what we are used to hearing or saying. She feels we may not do enough thinking work. She gives the example of the myth that competency is compromised for diversity. Most women, people of colour and other underrepresented groups will say that their experience is the opposite – rather than lowering the bar, people who come from underrepresented groups find that they have to undergo a higher level of scrutiny, as more hurdles are put in their way. By the time underrepresented people are 'on the radar,' they are much more likely to be exceptional, because of the barriers they have had to navigate. Critical thinking will show that rather than sacrificing competency, you are probably getting much better 'bang for your buck.'
"Gently, subtly, politically, but sometimes more directly influence behaviours, so that they're much more aligned with your own values of inclusion"
Doyin explains that talking work includes the idea of calling out behaviour, for example, when in a meeting if someone is interrupting or ignoring someone else's particular ideas. If calling out is a little too direct, calling in is another option, to change behaviours. Under no circumstances should anyone see something that goes against what they stand for and, as a leader or steward for a business, wait for someone else's permission to disrupt it.
"The strength of a board is it comprises of different people"
Doyin explains that the third type of work is doing work, which is important to consider within the boardroom itself. It is important for boards to be strong, high-functioning work groups and for board members to trust and challenge one another and engage directly on critical issues facing corporations, either with senior managers or within themselves. The strength of a board is that it contains different people, different roles, and different powers. Doyin believes it is useful to build inclusive and equitable micro-cultures within the board and offers some ways the board can do this. First-time and minority ethnic directors and women receive significantly lower mentoring than white male first-time directors and are less likely to be advised by someone who is already a director about how to navigate the boardroom. So Chairs should attend to who is speaking and how often, to ensure that the minority member's voice is heard during board discussions. Affinity bias or social identity-based liking occurs when you like or respect people who are similar to you, and research suggests that when new female and minority directors are not similar to their boards, they do not necessarily have a similar chance to be appointed committee members or to have a long tenure. Again, this can be countered by the role of the Chair and other colleagues on the board. Doyin believes that until we get to a truly equitable and inclusive culture (and we should work towards it), we cannot be blind to the differences that occur right now.
The three top takeaways from our conversation are:
Inclusive cultures matter not only in the organisation, but also in the boardroom. The work of diversity in boards should not be just one person's agenda item, but everyone's agenda item.
Chairs have a particular role to play, e.g., in helping support the informal induction of new members – especially those who are 'different '– don't be blind to difference. Be intentional about it.
When you think about diversity as work, remember there are different types of this work – thinking work (thinking critically), talking work (calling things out when you see things inappropriate) and doing work, being seen by everyone to embody and shake up the culture
Don't forget to subscribe never to miss an episode of the Better Boards Podcast Series. Available on Apple, Spotify or Google.
To find out how you can participate in the Better Boards Podcast Series or more information on Better Boards' solutions, please email us at info@better-boards.com.