The Retention Factor: Why Boards Need to Prioritise LGBT+ Inclusion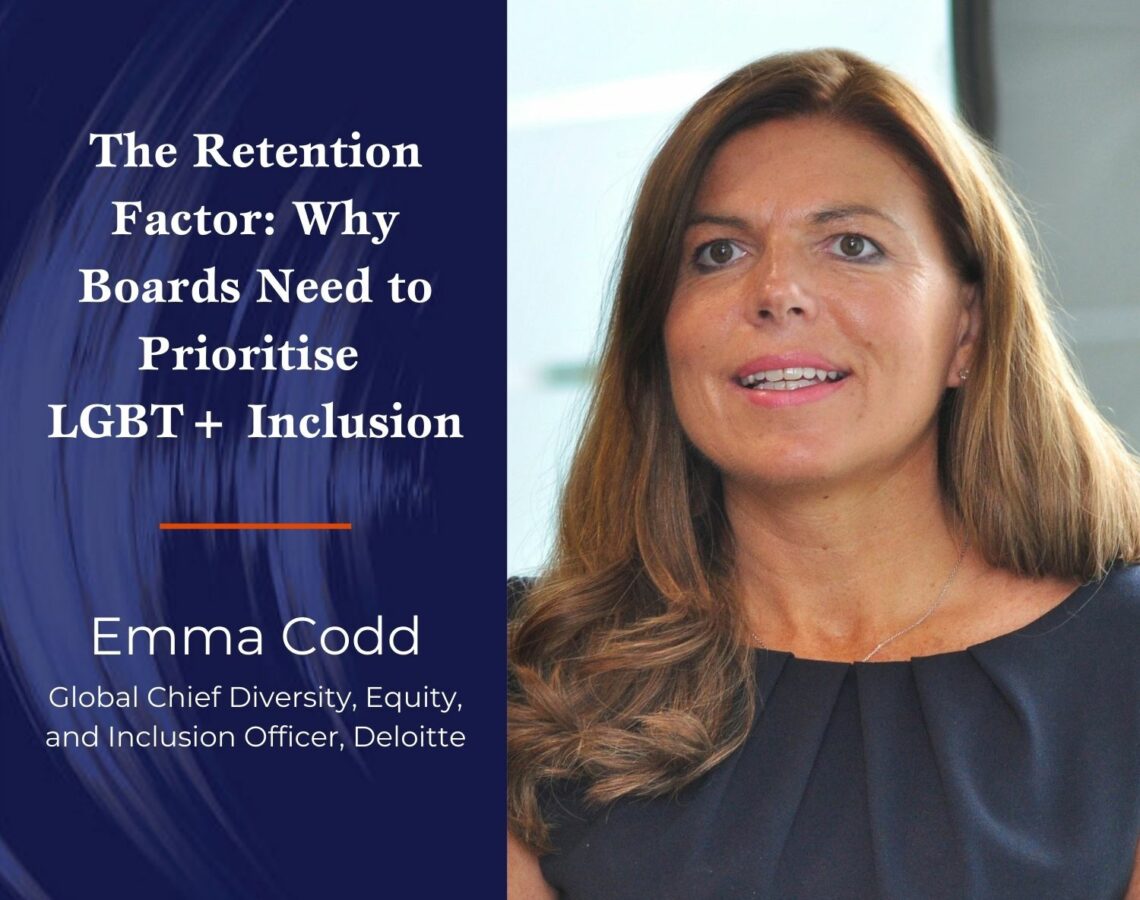 When LGBT+ employees feel their employers aren't doing enough to support LGBT+ inclusion, many are prepared to look elsewhere for organisations that do.
When LGBT+ employees feel their employers aren't doing enough to support LGBT+ inclusion, many are prepared to look elsewhere for organisations that do. This is one of the many stark findings from Deloitte's recently released 2023 LGBT+ Inclusion @ Work report, which explores the experiences of more than 5,400 respondents across 13 countries through the lens of both sexual orientation and gender identity.
The survey findings reinforce that when organisations foster diversity and demonstrate a commitment to LGBT+ inclusion, it can positively impact the lives and experiences of all employees in the workplace. This is why boards need to recognise the importance of inclusion and move beyond lip service to ensure companies have the necessary strategies to ensure their organisations cultivate environments where LGBT+ employees and all employees can thrive.
In this podcast, Dr Sabine Dembkowski, Founder and Managing Partner of Better Boards, discusses the 2023 LGBT+ Inclusion @ Work report and why boards need to prioritise LGBT+ inclusion with Emma Codd, Global Chief Diversity, Equity and Inclusion Officer for the professional services firm Deloitte. Emma leads the firm's strategy on gender balance, LGBT+ inclusion, mental health, disability inclusion, neurodiversity, and the development and delivery of thought leadership aligned to this strategy, including the annual 'Women@Work – a Global Outlook' report. In 2021 Emma was awarded Honorary Membership by the UK's ICAEW for her work championing diversity and inclusion of women
Some of the key takeaways of the conversation include:
"LGBT+ inclusion and the willingness for people to be out in the workplace is a barometer for other aspects of inclusion"
Emma explains that the 2023 LGBT+ Inclusion @ Work report is one of Deloitte's "At Work" series of reports, and involved around 5400 LGBT+ people in workplaces across 13 countries – Australia, Brazil, Canada, China, France, India, Japan, Mexico, the Netherlands, Poland, South Africa, the UK and the US. It is designed to give a representative view through a global lens.
Emma explains that many people who identify as LGBT+ fall into Generation Z and millennials – for example around 10% of Gen Z identify as LGBT, and in reality, possibly more. At Deloitte, over 80% of employees are Gen Z or millennials, which is an increasingly important issue. Being out at work was an important aspect discussed in the survey, and Emma points out that LGTB+ is an identity that people can choose to hide, so the more people who are out at work, the more likely the culture is inclusive. She also notes that the impact of what is known as "covering" applies also to other diversity aspects, such as neurodivergent variations. The reality is that covering means people are not bringing their whole selves to work, and if you cannot be yourself in the workplace, you are not applying yourself 100%, and you will not be fully happy or fully engaged.
"The survey shows us how important it is to LGBT+ people that their workplace is inclusive for them"
The survey revealed both positive and concerning information. Emma warns that one-third of respondents said their current employer does not focus on LGBT+ inclusion and expressed a desire to change employers to find a more inclusive workplace. This increases to half of respondents in an ethnic minority in their home country. The survey also highlighted the importance of a diverse workforce, with nearly 70% of respondents stating that it was a deciding factor in choosing a company.
"If they are their true selves in the workplace, they're worried they'll be discriminated against, that they'll be harassed, they'll be disrespected, but then they're also worried about their personal safety"
Emma notes that 6 in 10 respondents felt it was important to be out about their sexual orientation, and three-quarters about their gender identity. However, less than half felt comfortable being out with all their colleagues, and a further third with only a select group of colleagues. Concerns about being treated differently, discrimination, harassment and personal safety were cited as reasons for not being open about their identity and a personal preference to not talk about it. Emma points out that nearly 2 in 10 have a concern for their personal safety if they were out about their sexual orientation, and just over a quarter are out about their gender identity. This raises concerns about employees' psychological and physical safety in the workplace, which boards have a duty and responsibility for.
The survey also revealed that individuals were less comfortable being out with higher-level positions, such as their direct manager (37%), HR (34%), company leadership (28%) and clients and customers (20%). This poses a challenge when it comes to reporting non-inclusive behaviours and feeling supported in the workplace.
"The importance of LGBT+ inclusion in the workplace is more important, according to this data, for Generation Z and millennials"
Emma explains that looking at Gen X, millennials, and Gen Z, there was a real difference in attitudes. According to this data, LGBT+ inclusion in the workplace is more important for Gen Z and millennials, who feel the importance of this ability to bring their whole self to work. Gen X does not see it as personally important for them. Therefore, higher leadership roles (who may frequently be older) could be failing to understand the needs of the younger generations. This was worryingly similar in different countries.
"One in 10 of respondents that experienced these non-inclusive behaviours said that they were exposed to physical aggression"
Emma references the research each year into millennials and Gen Z (over 25,000 millennials across over 40 countries). Questions are asked about non-inclusive behaviours – harassment, bullying and microaggressions. 42% of respondents (very similar to the Women at Work data) said they had experienced these behaviours. Emma notes that the data is subjective but shocking that just under half of those who experienced those behaviours are certain they experienced them as a result of their sexual orientation or gender identity. A further 37% strongly suspected it to be the reason, and over 80% of those strongly suspect that it is a result of how they identify.
The most common non-inclusive behaviours encountered were microaggressions, again, very similar to the Women at Work report data. The frequent definition of microaggressions is often unintended, seemingly small behaviours that adversely impact somebody – so comments of a sexual nature, unwanted jokes about the way they identify, what was probably previously called workplace banter. Emma explains that the impact these microaggressions have on people and how excluded they feel is very significant. Most concerning was that one in 10 respondents that experienced these non-inclusive behaviours said that they were physical aggression, believing this is because of how they identify. Reflecting perhaps the data on how many LGBT+ people were comfortable disclosing at work, 43% of those who experienced non-inclusive behaviours did not report it to anyone. Not their employer, not HR, not to anyone. Why? 39% said they thought reporting it would worsen the situation, and around one-third had no confidence that action would be taken, or were concerned about adverse career impact.
"Do you know how many of your employees actually are willing to give you their personal data in the first place?"
Emma points out that some organisations are doing an amazing job, making LGTB+ inclusion a priority, talking about it, educating, and demystifying. Boards need to consider self-identification and whether there has been a voluntary self-ID campaign. Do you know how many of your employees identify as LGBT+ or are willing to give their personal data at all? Employee resource groups are really important, but it is not their job to fix anything from a DI perspective, that is the board and management committee's role. An ERG enables people to spend time with others to share experiences and help advocate any change where needed. Emma maintains that every board member should be a visible and vocal ally when it comes to LGBT+ inclusion.
The three top takeaways from our conversation are:
This is important to your business.
For one day try not referring to your partner by their pronouns to see just how difficult that could be for somebody who cannot be out at work, and therefore the impact on their performance.
Understand that culture is everything, and doesn't just impact LGBT+ inclusion. It impacts everything – and boards have a responsibility here. Try and understand how your people are feeling, what they are experiencing, non-inclusive behaviours and what needs to happen to deal with them properly.
Please contact sabine.dembkowski@better-boards.com for a copy of the full text blog.
Don't forget to subscribe never to miss an episode of the Better Boards Podcast Series. Available on Apple, Spotify or Google.
To find out how you can participate in the Better Boards Podcast Series or more information on Better Boards' solutions, please email us at info@better-boards.com.