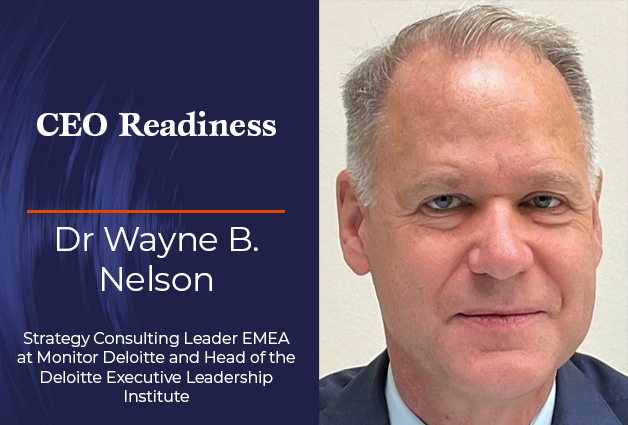 CEO appointments are an important responsibility of Boards.
CEO appointments are an important responsibility of Boards. Accordingly, Boards need to ensure they have adequate qualified internal and external candidates for successful CEO selection processes. Creating CEO readiness for internal candidates is as important as working with external search advisors.
In this podcast, Dr Sabine Dembkowski, Founder and Managing Partner of Better Boards discusses CEO readiness with Dr Wayne B. Nelson, Senior Partner at Deloitte Consulting and Strategy Consulting Leader Europe, Middle East and Africa (EMEA) at Monitor Deloitte. He is also Head and Founding Dean of the Deloitte Executive Leadership Institute. The institute offers a readiness program for next-generation CEOs. He was previously a Partner at the Monitor Group and Managing Director of its German and Swiss operations. Wayne holds degrees from Georgetown University and the Massachusetts Institute of Technology and has his Ph.D. from Cranfield University. He is also an Honorary Visiting Fellow at the Bayes School of Business, City, University of London and a Visiting Fellow at Cranfield School of Management.
Some of the key takeaways of the conversation include:
"Nature and nurture both play a role in the development of leaders"
Wayne starts by explaining that, of course, both nature and nurture play a role in the development of leaders. The Deloitte Global CEO Program starts with executives who have already distinguished themselves as leaders in their careers and then focuses on the learning aspects of the 'last mile' to the CEO role.
He describes how the programme has held more than 500 transition Labs, which are workshops for newly appointed CEOs, during which they can reflect on the first 100 days and plan the next 300 days. They analysed the data from this sample of leaders and found that roughly 30% are what he refers to as 'accidental CEOs.' These leaders stumbled into the CEO role by being in the right place at the right time, with the required skills and experiences. The candidates, however, had no plans and no intention to become CEO.
Most CEOs intentionally sought out the CEO role in their own organisations or externally. Wayne feels this suggests that leaders can do intentional, deliberate things to increase their readiness and chances of moving into a CEO role.
This is why CEO readiness work focuses on talent that has already proven their potential, and typically leaders who are 3-5 years away from their first significant CEO roles. Their experience shows that there is still much improvement potential on this 'last mile', and Wayne describes how participants benefit from reflecting on the requirements of the role by processing 360-degree feedback, identifying opportunities to fill any last remaining experience gaps, and honing their interview stories
"The CEO role is a very challenging one that comes with huge personal sacrifices"
Wayne suggests that the CEO role often brings isolation and loneliness, and requires a thick skin and an ability to be resilient. Candidates need to realise this and be sure they really want the job and are willing to make the sacrifices. He also believes they need to understand stakeholder perspectives on the specific challenges facing the organisation and the prospects for future change and transformation. They also need to be able to articulate a succinct vision and explain why they are the right person to take the company to the next level. To do this, Wayne suggests they need to recognise their strengths and weaknesses and create a personal brand to communicate their motivation and the value-add they would provide authentically.
"We're seeing a whole new generation of executives"
Wayne explains that company products have well-defined attributes and values, communicated with great care to ensure clarity and consistency. Executives in the market for a CEO role also need to define a brand for themselves – simple, relevant, and authentic. They need to communicate this consistently, over and over again, and new social media channels are ideal for this. He points out that, in particular, LinkedIn is used by CEOs to post, communicate, build and reinforce their brands. In his experience, many next-generation executives are busy focusing on managing their functions, business units, and regions. They also need to take the time to create their brand and deliberately convey this through their posts, not just by posting business news from their companies.
Wayne notes that some executives resist, but PR agencies that deal with executive transition actively advise executives to do this, supporting them in the process. He knows many CEOs who spend an hour a day on social media.
"The best CEO hires are fit for circumstance"
Wayne explains that 'fit for circumstance' means that the best CEO hires can explicitly connect the company's circumstances with an attractive future vision – and then connect these to their own experiences, capabilities, potential, and motivation. The four key elements defining fit for circumstance are (1) The situation, expectations and vision for the company. (2) The type of leader the company needs. (3) The candidate's capabilities, experiences, and potential. (4) The candidate's motivation and authentic self. The best CEO hires fulfil all four.
"Board members need to think about what type of leader the company needs explicitly"
Wayne has seen that very experienced board members have categories of CEO types in their minds that they can easily match with the current situation of the company. This needs to be discussed early on, however, not in the heat of the moment and not during recruitment when a selection is being made. He believes that succession planning needs to be done early, and thus for a CEO role, internal candidates should be developed, not necessarily always looking externally via search agencies.
The three top takeaways from our conversation are:
The best CEO candidates can articulate their "fit for circumstance" and make a real effort to hone their "story."
Board members can use the "fit for circumstance" concept to guide their CEO candidate evaluations and selections.
Boards benefit from having a broad slate of viable internal and external candidates. It makes sense to build CEO readiness of internal candidates deliberately.
Don't forget to subscribe never to miss an episode of the Better Boards Podcast Series. Available on Apple, Spotify or Google.
To find out how you can participate in the Better Boards Podcast Series or more information on Better Boards' solutions, please email us at info@better-boards.com.