Establishing a global mindset in the boardroom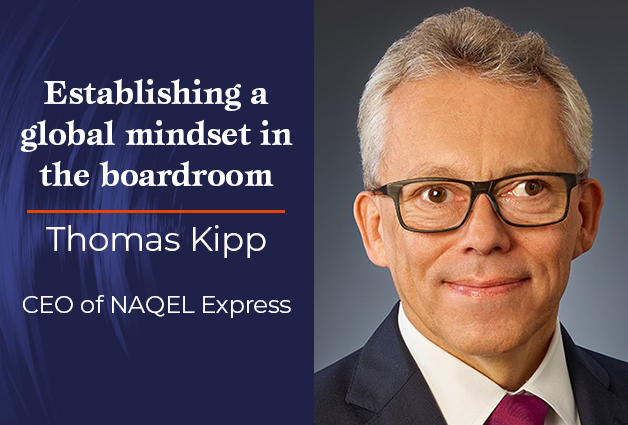 Diversity is high on the agenda of boards, and in these podcasts, we have looked at diversity from different angles.
Diversity is high on the agenda of boards, and in these podcasts, we have looked at diversity from different angles. Diversity is high on the agenda, yet we still see something different in the boardroom, where more often than not, boards are filled with individuals whose nationality only matches that of the country of the headquarters. FTSE boards are filled with British nationals, DAX boards are filled with German nationals etc. It is clearly challenging to establish a global mindset in the boardroom.
In this podcast, Dr Sabine Dembkowski, Founder and Managing Partner of Better Boards, discusses the issue of establishing a global mindset at board level with Thomas Kipp. Thomas served on the board of Deutsche Post DHL and Aramex, and worked and lived in Europe, North America and Asia. He is the newly appointed CEO of Naquel Express.
Some of the key takeaways of the conversation include:
"Be respectful and authentic"
Thomas believes his upbringing contributed to his ability to adapt quickly to different cultures. He explains that being curious and open-minded to other cultures enables you to really understand how things are done, how effective solutions are, and how different the culture may be from the home market.
His best advice is to be respectful and authentic, as to be successful in a foreign market, you need to develop a similar level of trust as in your home country. This may require taking different approaches, but people will recognise if you are sincere. He also advises 'playing by the local rules,' always trying to understand the local business and cultural environments and identifying some key local 'tricks of the trade' that will help.
"It's important to try and understand how you can leverage a global footprint"
Thomas gives examples of this when working in Japan, where establishing trust takes time. In the United States, he learned to present ideas as if they were coming from the local teams, making it their idea and their success. In Spain, he found that Spanish people were not so comfortable speaking in English, so allowing interludes for speaking in their own language (letting the emotions and the Southern European passion out), then reverting to English, bringing everyone together again, created more focus. Appreciating the local business environment enables small 'tricks' like these to have a big impact, and people will recognise that effort is being made.
Thomas believes we are in a truly globally connected world, evidenced by the impact the epidemic has had on businesses and organisations in so many ways. Yet managing a global business requires an effective approach, because global difficulties potentially require different solutions, ones not foreseen or solutions previously taken for granted but that now don't seem to work. It can be truly challenging to bring a global mindset to a board.
"You will find various angles of difficulty in creating… …the same level playing field as if you were dealing with business matters in your home market"
Thomas feels that the first difficulty in bringing a global mindset to the boardroom is posed by simply practical reality. In any given country, it is likely that not too many board members will have lengthy, practical, outside-the-home country work experience. He points out that across all levels, only around 4% of the world's population have ever left their home country and worked outside of it for a lengthy period of time. Therefore, relevant international work experience in a real issue, yet it is this that often brings a lot more appreciation of international open-mindedness and integration of international aspects into the work and composition of a board.
One thing Thomas has done in the past and advocates is to give board members colleagues' immersive journeys'. He explains this means really making an effort and convincing board colleagues to take a trip into any given market of operation and build their own opinion – on the ground, rather than in a boardroom in the home country.
"An opportunity for boards to educate themselves about some of the key markets in which they operate, or … in which they wish to operate"
Thomas finds that when top companies go outside the home country and expand, some people think they may be less successful if things do not progress in the same way as in the home country. Maybe this will reflect upon their managerial capabilities, etc. However, an appreciation of how things are being done outside the home market can greatly teach managers, leaders and board members. He gives the example of one board that decided to move into and operate out of a foreign country for four weeks. Living and working in a foreign environment has been encouraged by the pandemic with remote working, leveraging digital communication technology, and bringing greater flexibility. It is an opportunity for boards to educate themselves about some of the key markets in which they operate or wish to operate. It is an opportunity to really learn about and appreciate foreign markets.
"We say we're operating in international markets, but it doesn't really show in the way we're running the company"
Thomas points out that running a business with an international element is a clear strategic decision. Practically, that decision needs to be carefully thought through in terms of what it will mean for the organisation, for designing or redesigning the leadership team, and what it will mean to integrate the international business into the company setup actively. He notes that sometimes when working in that international environment, it can feel like a satellite flying around Mother Earth, not really integrated well in the organisational context. For example, there are many examples where people are sent from the home country to an expatriate assignment and have difficulty returning because they have 'fallen off the radar' by being away.
Thomas thinks that taking into account not only the strategy and setup but also the organisational and the cultural side of the business is very important. Consideration must be given to how this will be reflected in the composition of the board and senior management team so that the international members will be seen as more integral.
Thomas suggests that the leadership team and board must represent the international reality. Many organisations do most of their business in other countries, yet the board does not have representation from that country where they have the greatest growth or do the most business. He feels this may be in part due to personal insecurities.
He gives the example of a board of a listed company where only one board member was fluent in English. To build an international board, often there is a need for the language to be English, but this will result in conversations becoming more complicated, because not every person will feel equally comfortable using the English language for business decisions. This can create personal insecurities. International colleagues more familiar with the English language may be perceived as 'looking better' in discussions, or maybe there are issues expressing ideas as effectively in English as they could in their native language. There needs to be a conscious reflection about international perspectives. It takes time and effort to appreciate how to be as effective as operating in a domestic board environment.
The three top takeaways from our conversation are:
It is a serious strategic and business undertaking to expand business internationally. There should be a clear conscious effort to reflect this in the leadership and organisational setup, from the boardroom down to the shop floor.
On a personal note, board members need to overcome insecurities, immerse themselves in the international business environment, and make a conscious investment in understanding how to better leverage their international capacity and capabilities for the success of the company.
Members must stay curious and open-minded and try to understand how to become more effective in other settings because working on an internationally composed board can be extremely rewarding.
Don't forget to subscribe never to miss an episode of the Better Boards Podcast Series. Available on Apple, Spotify or Google.
To find out how you can participate in the Better Boards Podcast Series or more information on Better Boards' solutions, please email us at info@better-boards.com.