Diversity and inclusion, insights from the U.K. and Mercedes-Benz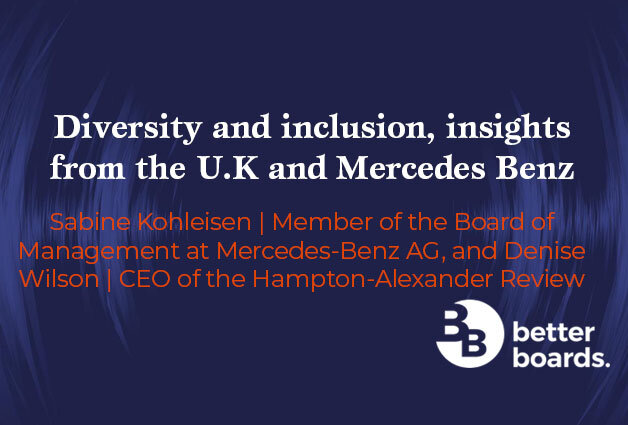 Diversity and Inclusion on boards is the discussion in this podcast episode, providing valuable insights from across the UK and from one of the world's leading brands, Mercedes-Benz.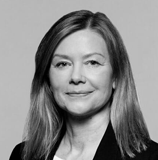 Sabine Kohleisen, member of the Board of Management at Mercedes-Benz AG, responsible for Human Resources and Director of Labour Relations, and Denise Wilson, CEO of the Hampton-Alexander Review spoke with Dr Sabine Dembkowski.
Denise and Sabine presented facts, figures, and insights about achievements by firms here in the U.K. and at Mercedes-Benz. This included the differing approaches that have been taken when it comes to diversity and inclusion in the workplace.

Some of the key takeaways of the conversation included:
"This is a real marathon"
Speaking on the progress Mercedes-Benz had made, Sabine pointed out that the pursuit of a more gender-inclusive boardroom was a marathon and not a sprint. It takes time to promote the right attitudes, fill the pipelines and bring talent into the boardroom. Mercedes-Benz themselves had set their goal of achieving 20% of senior management positions being held by women by 2020, all the way back in 2007.
"Look at the employee journey"
Getting more women into the talent pipeline, particularly in a sector such as the automotive industry requires the recruitment process to start early in the employee journey. In the case of Mercedes-Benz, they are already utilising female talent fairs, 'Girls Days' and recruitment networks aimed at women to help bring more women into the industry. With every successful female hire, they increased the diversity of not just their workforce but the future leadership pipeline.
"Choosing a voluntary target works"
Speaking on the UK approach, which involved voluntary rather than legislated targets, Denise suggested that voluntary targets work, as they can be tailored to suit the bespoke needs of a firm or sector. They usually set in achievable aims for the firm in question, thus can be easily tracked, measured, and reported back to leaders to show how well progress is doing. By building diversity reporting into the information flow, gender diversity becomes a serious business agenda point, rather than a head-in-the-sky ideal.
Don't forget to subscribe to never miss an episode of the Better Boards podcast series on Apple, Spotify or Google.
To find out how you can take part in the Better Boards podcast series or for more information on Better Boards' solutions, please email us at info@better-boards.com