The role of the company secretary in creating future-fit boards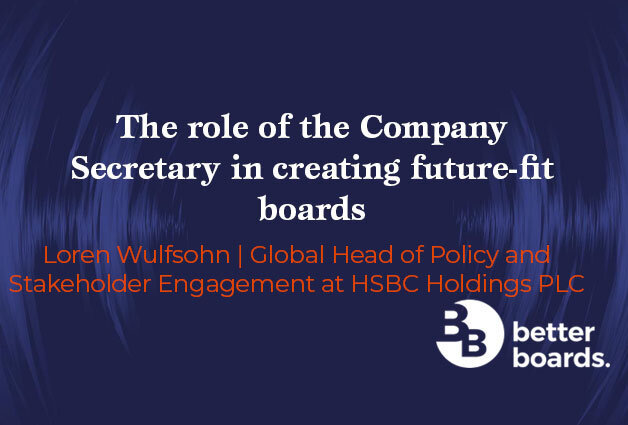 The subject of this episode of the Better Boards Podcast Series was 'The role of the company secretary in creating future-fit boards'. Loren Wulfsohn, Global Head Policy and Stakeholder Engagement, Corporate Governance & Secretariat at HSBC spoke with Dr Sabine Dembkowski.
The topic is of great importance to the company secretariat, particularly as boards today face challenges on a range of fronts and a drive to be more effective.
In the podcast, Loren provided real and practical advice for company secretaries, as well as giving valuable insight into the problems and adaptations boards have dealt with during the COVID-19 pandemic.
Some of the key takeaways of the conversation included:
While discussing how board behaviour has changed over the last 12 months, Loren highlighted that due to the switch to digital, the physical board pack has gone. This has led to real questions over boards papers, such as how easy they are to read when they are presented digitally. This has impacted the creation of board papers, as governance professionals had to adapt to new processes and timescales to ensure board papers are still delivered promptly. This conversation became part of a much larger discussion around how the board operates when the standard procedure was no longer an option.
"Keeping things simple"
To address these challenges, Loren's advice was to keep things simple, asking the question, 'What do people need?' and then sticking to it. Staying on this point meant considering what information was needed and how it was delivered. This approach not only addressed conducting board businesses during COVID-19 but tackled a common complaint among boards, that board papers are too long and too complex.
"A future-fit board is one that is agile"
Focusing on the board themselves, Loren suggested that a 'future-fit' board was one that is agile. One able to address challenges in constantly changing situations. A key aspect of that agility was for the board to be able to "zoom in and zoom out" without getting caught up in day-to-day operational issues. They need to be able to see the big picture, but also zoom in and take in what is happening on a micro-level to understand the underlying situation.
Don't forget to subscribe to never miss an episode of the Better Boards podcast series on Apple, Spotify or Google.
To find out how you can take part in the Better Boards podcast series or for more information on Better Boards' solutions, please email us at info@better-boards.com