Finding your voice in the boardroom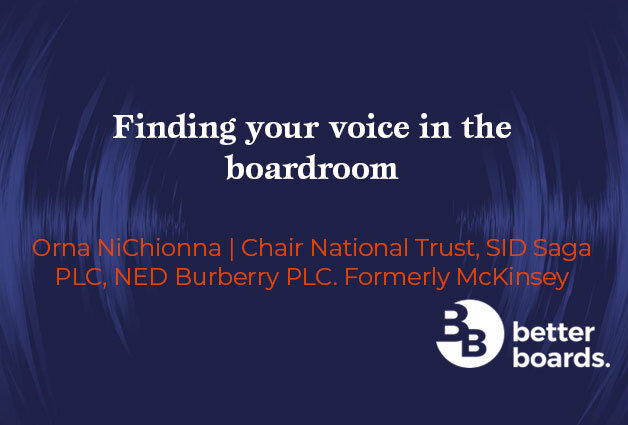 The subject of this episode of the Better Boards Podcast Series was 'Finding your voice in the boardroom'. Orna NiChionna, Chair of Founders Intelligence and Non-Executive Director at Burberry PLC spoke to Dr Sabine Dembkowski.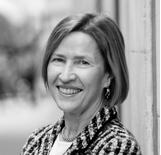 Orna brings her experience from a fantastic portfolio of boards in addition to Burberry PLC, these include Saga PLC, and the Royal Mail.

Many directors at the beginning of their directorial career often worry that they will not make the impact they want or that they expect to make. This trend is more pronounced with directors who are women and those from a minority background.
Some of the key takeaways of the conversation included:
"Speak up and speak up early"
For those starting in their first board appointment, the key is to speak up and speak up early. Building the confidence to contribute to the board relies on having the confidence to first participate in the discussions of the board. This can be achieved early by simply taking the opportunity to agree with what other members of the board have said. This helps build confidence in speaking one's mind which can lead to being able to contribute original ideas.
"Your impact is likely to be cumulative and incremental"
Something that can cause new directors' frustration is the belief that because they have not made a dramatic impact, they have made no impact. A director's impact can often be subtle. One example of this is the impact of asking questions. By asking questions directors can help stimulate change in the board as other directors begin to pre-empt questions that may be asked based on questions that have been asked in the past. This makes the board more effective as directors as they unify in seeking out key information as a collective before having an individual prompt the thought process.
"Have a system of feedback"
While boards have changed over the last 15 years to become more transparent, feedback is still critical. This applies not just to the board as a collective but to board members as individuals. New directors should not wait for a year to go by to seek feedback from the Chair or SID, but should make efforts to seek feedback after the first few meetings. Having this feedback cycle with experienced members of the board can help provide advice and concrete steps that can be taken for new directors to participate more fully or for changes to be made at the board level when problems arise.
Don't forget to subscribe to never miss an episode of the Better Boards Podcast Series on Apple, Spotify or Google.
To find out how you can take part in the Better Boards Podcast Series or for more information on Better Boards' solutions, please email us at info@better-boards.com.