International Women's Day – Women on Boards in 2021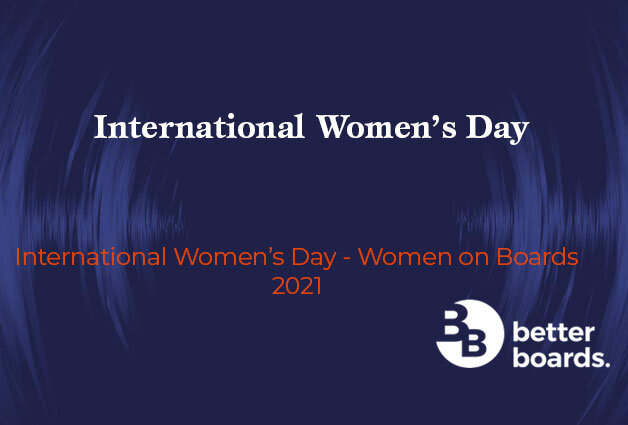 This year's International Women's Day follows on shortly from the publication of the 5-year progress report by the Hampton-Alexander Review.
The Hampton-Alexander Review is an independent review body working to increase the number of women on the FTSE 350. So, their 5-year report represents an opportunity to study the adoption of gender diversity by the UK's largest companies.
How much has the FTSE 350 improved its gender diversity over the last 5 years?
The Positives
The report included many positive steps in greater gender diversity being adopted by the FTE 350.
Some of the positives included:
The FTSE 100 met the target for 33% of women on boards at the beginning of 2020. Representation now stands at 36.2%, which is up from 27.7% in 2017.
The FTSE 250 also met the target at the end of 2020, where representation is now at 33.2%. This is a big improvement from 22.8% in 2017.
The UK is the leading nation that has used a voluntary as opposed to a legally obligated quota and the FTSE 100 ranks 5th internationally for the percentage of women on boards in 2020.
The Negatives
The report was keen to stress that there were more areas in which the FTSE 350 needed to improve.
Some of these negatives include:
The appointment rate was still heavily skewed towards men at 64%
65-70% of Board & Leadership roles are occupied by men.
The 'Gender Say Gap' highlights the predominance of male voices in the boardroom.
Early statistics suggest that women have been over-represented in both the furlough and redundancy numbers.
Dr Sabine Dembkowski, Founder and Managing Partner of Better Boards, a provider of External Board Evaluations and Boardtech commented:
"It is good to see the improvements made by the FTSE 350 in terms of the representation of women across boards. However, it remains imperative that boards do not allow the pandemic situation to become an excuse to ease off efforts to continue to improve Board Diversity.
Board Effectiveness and Board Diversity are intrinsically intertwined and with the pandemic bringing even greater scrutiny onto the actions of boards, it is crucial that decisions be made effectively and be based on the contribution of a diverse range of thought and experience."