Politicians in the boardroom – can they add value or are they a nuisance?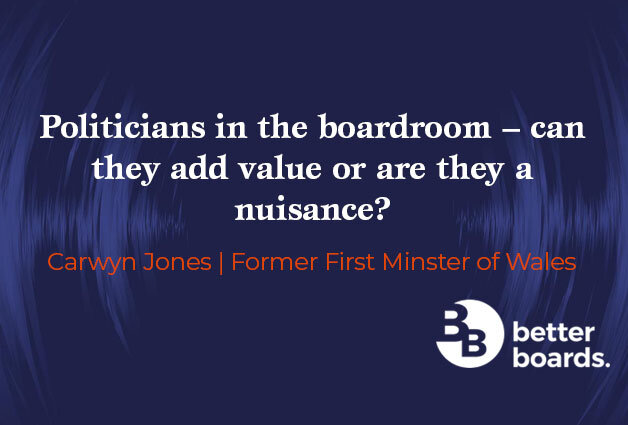 The subject of this episode of the Better Boards Podcast Series was 'Politicians in the boardroom – can they add value or are they a nuisance?' Carwyn Jones, the Former First Minister of Wales, spoke to Dr Sabine Dembkowski.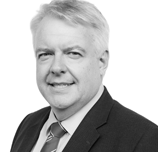 Carwyn Jones trained as a barrister and was in the legal practice before becoming the First Minister of Wales. As First Minister, he was responsible for a budget of £16bn a year and led a government that introduced landmark legislation. He led bids to bring companies such as Aston Martin and CAF to Wales and the expansion of organisations like Airbus, GE and General Dynamics, led the team that brought the Champions League Final to Wales, the Rugby Union and League World Cups and Ashes Tests. Recently, Carwyn joined the law and criminology department at Aberystwyth University on a part-time basis, before he steps down from his role as an assembly member in 2021.

Around the world, governments are struggling to address the immediate and long-term impacts of the COVID-19 pandemic. Governments are supporting key industries at an unprecedented level and with this support questions emerge about the role government representatives and politicians should play when an organisation receives public funds.
Some of the key takeaways of the conversation included:
"The level of scrutiny is far, far higher"
Politicians, particularly those at Cabinet level, are used to a much higher level of scrutiny than the average board member. For the former First Minister, he likened the weekly 'First Minister's Questions' to facing a shareholder meeting, every week, that was televised live across the country, wherein every shareholder was a full-time shareholder with their own staff on hand. Politicians can bring with them a level of comfort with the scrutiny that can be an asset to boards in a landscape that demands ever-increasing transparency and accountability.
"We all live in our own bubbles"
One of the advantages to bringing on a former politician into the boardroom is the 'out-of-bubble' perspective they can bring to a boardroom. Depending on their background and career path, a politician can be a fresh perspective or a critical friend to a board. This applies not just to dealing with Governments and their associated organisations, but also to the world of day-to-day business itself.
"A very strong sense of how something might be perceived further on down the line"
Politicians by the very nature of their work, must be able to understand how their actions and decisions can be seen and interpreted by the wider public. During the global pandemic, the action and decisions made by businesses now face an even greater level of scrutiny by the wider public eye. By having a former politician in the boardroom, advice and guidance can be given to help boards see the potential perception of the choices that lie ahead of them.
Don't forget to subscribe to never miss an episode of the Better Boards Podcast Series on Apple, Spotify or Google.
To find out how you can take part in the Better Boards Podcast Series or for more information on Better Boards' solutions, please email us at info@better-boards.com.