Board performance & cognitive diversity in the boardroom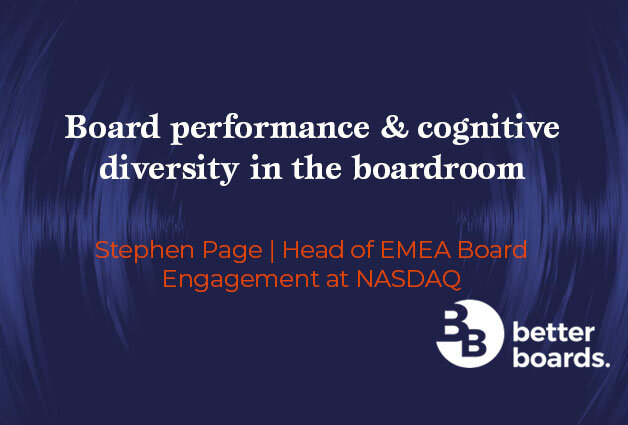 The subject of this episode of the Better Boards Podcast Series was 'Board performance & cognitive diversity in the boardroom'. Stephen Page, Head of EMEA Board Engagement for the NASDAQ Centre for Board Excellence spoke with Dr Sabine Dembkowski.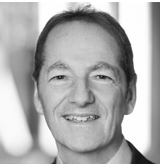 Stephen Page has been a Fellow of the Chartered Governance Institute for over 25 years. During his career, Stephen has acted as director, corporate secretary, head of legal, and independent advisor for many UK and non-UK public and private companies, including professional service firms, multi-nationals, and a UK development capital business.

The topic of conversation focused on why it is now necessary that both thinking and practice evolves from a focus on gender diversity which can create blind spots in understanding and thinking, to one of 'Cognitive Diversity' which emphasises collective intelligence, in order to help transform boardroom performance and effectiveness.
Some of the key takeaways of the conversation included:
"Critical to understand the difference"
It is important for those striving to create a more diverse board to understand the difference between Cognitive and Demographic diversity. Whereas demographic diversity focuses on the inalienable characteristic of members of the board, such as gender, race, and sexual orientation, cognitive diversity is best described as the diversity of thought. This means that a diverse board can be created even if members of the board share characteristics, but if they come from different background and perspectives, they can add a diverse element to the boardroom.
"Information Cascade and Dominance Dynamics"
Information Cascade and Dominance Dynamics are two issues that may impact board diversity by stifling board member participation and thus limiting the impact their diverse opinion can have in the boardroom. Information Cascade involves the Chair or a senior member of the board putting forth an opinion or idea first and the rest of the board not speaking up to avoid rocking the boat. This can be similar to Dominance Dynamics wherein a particularly dominant chair can discourage participation for fear of reprisal or causing conflict.
"We have a responsibility to speak up"
A key detail to remember is that board members are recruited to put forward their opinions. If you have recently joined a board, there is a personal responsibility to ensure that your perspective gets heard and this requires actively participating in the boardroom activities. By failing to engage, you potentially deprive the board of an important, and diverse viewpoint that may be key in the decision-making process.
Don't forget to subscribe to never miss an episode of the Better Boards Podcast Series on Apple, Spotify or Google.
To find out how you can take part in the Better Boards Podcast Series or for more information on Better Boards' solutions, please email us at info@better-boards.com.