The Role of the Board in the Age of Digital Transformation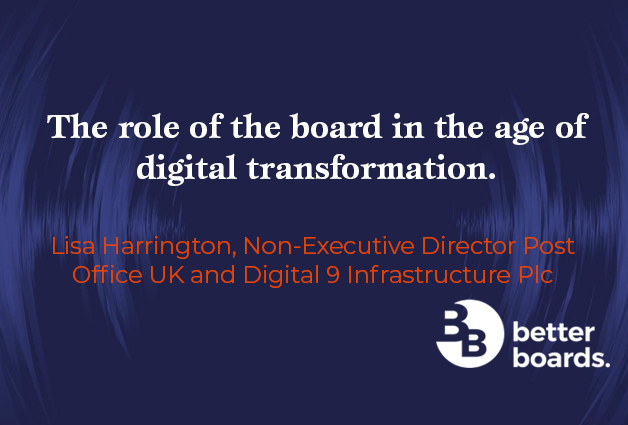 The subject of this episode of the Better Boards Podcast Series is " The role of the board in the age of digital transformation. " Lisa Harrington spoke with Dr Sabine Dembkowski.
The digital world has impacted the world of the boardroom significantly. Board members now need to adapt to the threats and challenges the new, digital world presents.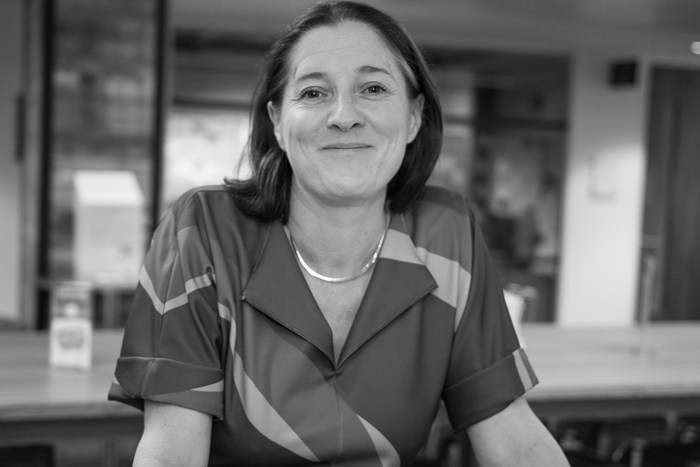 Lisa is an internationally experienced FTSE Executive and Non-Executive Director. She has spent 25+ years in customer and digital transformation roles across telecoms, technology, education and utilities businesses. She spent ten years with Accenture, followed by ten years with British Telecom, including her final role as Group Chief Customer Officer.
Lisa is currently enjoying a portfolio career on sits on the Board of Post Office UK and Digital 9 Infrastructure Plc. Her 13 years' board exposure has included a first-hand experience of FTSE listings and de-listings, M&A, digital and product innovations.
She is an Irish Londoner and proud mum of 2 sons.
Some of the key takeaways of the conversation include:
"Digital transformation is about changing your whole business model to be fit for the future"
Lisa feels that "digital transformation" is a rather outdated phrase. Some people think it means bringing in apps and devices, but digital transformation is about changing the whole business model to be fit for the future.
She outlines how it includes many different aspects such as the usage of data analysts, working on faster product development, and shifting a culture in the long term.
This transformation was already upon us, but the Covid pandemic has meant the pace of change in digitally transforming the boardroom has accelerated beyond all expectations. Lisa details how she witnessed "the pace of change of three years in three months." The pandemic created sudden culture shifts. Many previously rejected changes have gone on to be accepted during this time of upheaval.
The importance of digital gaps and how to fill them
This pace of change has affected the role of the board as well. Lisa emphasises the importance of leadership and establishing a model for people to follow. She also acknowledges the importance of "digital gaps." Boards may not currently be prepared to adapt to changes the digital world brings, not just with regard to technology but also in board makeup, skills and experience.
She suggests that boards can improve by bringing in people who may be inexperienced in other areas but who could bring the digital skills and technological 'savvy' that could further boost boardrooms when dealing with digital issues.
Sourcing these individuals is a difficult task, but a good source is an angel investment meeting, where you can potentially find digital entrepreneurs willing to learn from more traditional companies outside their current experience. "It's like reverse mentoring – if you give them the time, they will give you the time back."
"Companies need to look at the mid-term and the long-term, not just short-term"
Lisa outlines how boardrooms need to start with everyone wanting to change their culture. However, she also admits this may mean some legacy businesses risk eroding a business model they already have.
She outlines how a tech education business she was involved in working with companies to help them establish a platform. In one instance, this even involved buying a company in order to reinvent the business, shifting their offering from face to face in a classroom to offering face to face alongside virtual labs. This was met with initial resistance in the short term, in the belief that students would be unwilling to take classes online (although inevitably this changed with the onset of Covid). However, this decision later became beneficial in a business sense, as the virtual classes provided an opportunity in the longer term to expand to markets where the company was previously unable to offer services.
"The elephant in the room is huge, but you've got to start"
Changing attitudes to the new, digital culture (especially in the boardroom) is a big task. Lisa believes that getting the right people in and achieving some quick wins can help. Getting the right people in will help develop a more creative mindset towards digital transformation – one that reflects the changing world.
Don't forget to subscribe never to miss an episode of the Better Boards Podcast Series. Available on Apple, Spotify or Google.
To find out how you can participate in the Better Boards Podcast Series or more information on Better Boards' board effectiveness review software please email us at info@better-boards.com.