Creating effective boards – The 7-hallmarks of effective boards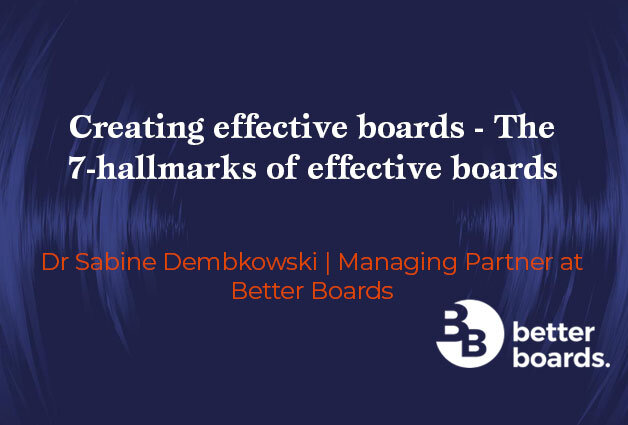 In this episode of the Better Boards Podcast Series, Chris McColgan, Managing Editor of The Business Scout, took over as host to ask Dr Sabine Dembkowski about 'Creating effective boards – The 7-hallmarks of effective boards'.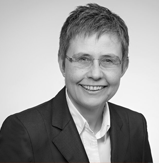 A lot has been said about the unprecedented challenges boards face – from governing an organisation through the pandemic, to disruptive technologies, shifting demographics and geopolitical risks.
Corporate failures have brought the importance of well-functioning and effective boards more to the fore.
Some of the key takeaways of the conversation included:
"Every Hallmark is a lever a board member can pull"
The 7-Hallmarks represent levers that can be pulled, not just by the Chair or SID, but by each individual member looking to improve and expand their contribution within the boardroom. They provide a framework for year-on-year performance growth which can be measured through both a self and peer review framework.
"We are now almost in the third wave of development of board reviews"
Board evaluations themselves have gone through changes. Initially, they consisted mainly of interviews, then evolved into questionnaires. But now with the emergence of research such as the 7-Hallmarks, we see firms increasingly looking for more quality data when conducting board evaluations. While interviews and questionnaires are still important, more must be brought to the table to give boards the actionable insights and data they require.
"Let's Move Everything into the Virtual World"
The COVID pandemic has increased the necessity for firms to become more digitally and operationally flexible. Digitisation within leadership and management roles has shown that firms that have this flexibility are better able to contend with not only the changing demands in a pandemic period but also the other external pressures emerging in the business landscape.
Don't forget to subscribe to never miss an episode of the Better Boards Podcast Series on Apple, Spotify or Google.
To find out how you can take part in the Better Boards Podcast Series or for more information on Better Boards' solutions, please email us at info@better-boards.com.